Chapter Five
How to Choose a LASIK Surgeon
---
The keys to successful, safe surgery in any field of medicine are an informed patient with realistic expectations and a skilled, experienced surgeon. Take the time to research the surgeon and the laser center that you are considering for correcting your vision. Ask questions! The following guidelines will help you in your quest.
Begin with People You Know
A word-of-mouth network often provides a good initial source of information. Ask family, friends, and associates if they could recommend a surgeon based on personal experience. Additional leads can be obtained by speaking with an optometrist or ophthalmologist whom you trust.
Many of the foremost LASIK surgeons advertise their services in one way or another. However, the hard-sell technique of employing testimonials from radio personalities or sports figures (who usually have had their LASIK procedure performed at no cost) can be misleading. Claims of having been the inventor of certain LASIK techniques likewise will not always stand up in the light of scientific scrutiny.
It is imperative that you have the conviction that your LASIK surgeon will treat you with your best interest at heart. A high-quality eye surgeon who has successfully treated friends and family is usually a good bet.
Consult Physician Directories
Physician search directories available on the Internet may be helpful. Keep in mind, however, that these directories are not exhaustive listings of all the refractive surgeons in your area, only those who have chosen to participate in them. Moreover, many directories simply list the surgeon for a fee. Keep in mind, too, that the majority of these sites do not check a surgeon's credentials. So make sure you thoroughly research a surgeon's credentials before making the final decision.
Contact Ophthalmic Boards and Medical Associations
Ophthalmic boards and medical associations offer useful information about board certification, licensing, and other pertinent criteria. Among the better-known entities are the American Society of Cataract and Refractive Surgery, the American Board of Ophthalmology, the Association of State Medical Board Executive Directors, and the International Society of Refractive Surgery.
You should contact your local or national ophthalmic associations for their lists of member surgeons. Be sure to contact more than one professional organization, as not all ophthalmologists are members of each one. Even if you have heard of good surgeons from a friend, relative, or acquaintance, take the time to check their professional credentials.
What to Look for
Board Certification
Always look for a board-certified physician. This is the medical profession's generally accepted form of accreditation. This information can be obtained from the American Medical Association (AMA).
Fellowship Training
Completion of additional training following ophthalmology residency, especially in corneal surgery, adds credence to a surgeon's dedication to his or her profession. Participation in research activities, lecturing, and writing professional articles and books also indicate a certain level of respect by the surgeon's peers.
Malpractice Suits
Check with your state medical board to see if the surgeon has had multiple malpractice suits against him or her. Even the best doctor may have had a lawsuit for medical malpractice. A good rule of thumb is to check for more than one malpractice suit for every year or two of practice. Multiple lawsuits require an explanation.
Experience with the Procedure
When a doctor earns a general medical degree, he or she may practice any specialty that he or she wishes. But not all doctors share the same degree of training and experience in that field. Hence, it is important to be careful when choosing a surgeon. Here are some things you should know and look for when deciding upon a surgeon.
Numerous studies have shown that surgeons experience a learning curve with the LASIK procedure. It has been shown that surgeons who have performed over 300 procedures have a lower complication rate than those who have performed fewer. Moreover, it generally takes approximately 200 to 500 LASIK procedures before a surgeon's nomogram is reasonably well developed. The nomogram defines the formula that the surgeon enters into the excimer laser's computer for performing your procedure. It is based on a series of measurements performed at the time of the preoperative exam, as well as on the surgeon's technique and the laser used. A well developed nomogram allows the surgeon to more accurately program the laser for each patient, decreasing the probability that an enhancement procedure will be necessary. You need to be aware, however, that even in the best hands, enhancement procedures are necessary five to ten percent of the time because different people respond differently to the laser.
In the process of performing these procedures, the surgeon should make every effort to meet or exceed benchmark standards in order to achieve good outcomes. By constantly analyzing surgical outcomes, the better surgeons find that the consistency of their results improves, even beyond the initial 1,000 procedures.
Find out how much experience the surgeon has with your procedure--the more the better. Time and experience have shown that surgeons who concentrate on LASIK vision correction surgery and who do a lot of it are better at it.
Benchmarking
As a potential patient, you should ask your surgeon how he or she tracks LASIK procedure outcomes. The surgeon's response can tell you a great deal. If the surgeon has numbers readily available--charts and graphs or can quote specific outcomes--the likelihood is high that the surgeon is benchmarking. In addition, if the surgeon presents his or her data at well-respected national or international conferences to other surgeons, or publishes in professional journals, you can be confident that he or she is benchmarking.
Because there is no mandatory central reporting database for benchmarking, the important thing is to determine if the surgeon is benchmarking and not worry too much about any one specific number. The fact that the surgeon is tracking LASIK outcomes shows his or her concern for achieving the best possible results. Your goal is to find someone for whom achieving excellence is a paramount concern.
Success and Complication Rates
Next, ask the surgeons how long they have been performing LASIK and about their success and complication rates. Your surgeon should discuss the potential success rate for your individual surgery as well as any potential complications. Surgical success means more than knowing how to avoid complications; it means knowing how to handle difficult situations before they arise. Identifying problems early and dealing with them in a timely manner is the hallmark of excellent surgeons. All surgeons have complications, but that does not mean that anything was done wrong. What is important is that the surgeon have a low complication rate and that the ultimate visual outcomes be good.
It is also important to know about their experience with refractive errors similar to your own. The surgeons should have adequate experience with people of the same age, gender, and race as you because the surgical techniques needed to correct refractive errors in these groups may differ slightly from the norm.
Awareness of New Developments
Most doctors keep up with the latest developments by reading or attending conferences. Some doctors take this a step further and immerse themselves in a life style of innovation by lecturing at major conferences, writing journal articles and textbooks, participating in clinical trials for new technology, and consulting for ophthalmology companies.
Ask the doctors you talk to if they know what is being achieved, both nationally and internationally, in their field. Or contact one of the major ophthalmologic societies directly with the same question.
Personal Compatibility
Remember, personal chemistry is extremely important. Choose a surgeon with whom you feel comfortable; someone who is easy to talk to, friendly, and professional; someone who listens closely to what you want and cares about what you need. Make sure he or she is willing to take the time necessary for your understanding of the procedure. A good doctor-patient relationship is important in helping devise a treatment plan that best suits your needs.
The art of medicine entails blending the science of medicine with the needs and expectations of the individual patient. Many excellent LASIK surgeons and LASIK centers offer educational seminars or consultations that give you an opportunity to assess the quality and excellence levels of the person to whom you are entrusting your eyes.
Competent, Compassionate Staff
Verify that the laser center is staffed with highly trained, competent people. Determine for yourself whether the LASIK surgeon has a kind, compassionate staff to help support you emotionally throughout the LASIK process.
Care Provider and Style of Care
Determine who will be doing your preoperative and postoperative care: the LASIK surgeon or his or her support staff.
Once you have found some possible surgeons, the next step is to narrow the field by interviewing them and looking at practices that are suited to your own preferences. Some practices have a staff to provide patient care; others offer extensive surgeon/patient interaction. Only you can decide which system works best for you.
Practice Style of Care
The following questions may help you determine which practice care style works best for you:
Will the surgeon evaluate and speak with you prior to surgery?
Who will be your main contact at the office?
Who will perform the preprocedural exams?
Who will perform the follow-up exams?
What are the qualifications of the person providing the follow-up care?
The intent of these questions is to help you find a practice whose approach best fits your needs.
Many patients choose to see their family optometrist or ophthalmologist for their preoperative and/or postoperative care. Such an arrangement is known as comanagement and is a style of care that is more convenient and comfortable for many patients.
Find a Qualified Surgeon
Find an experienced LASIK surgeon who will make the commitment to you to take full responsibility for your LASIK result, who will meet you prior to surgery, and who will be actively involved in every aspect of your LASIK procedure.
Be sure you know who is actually doing the procedure. Ask who will be doing your follow-up. Ask about their qualifications. Find out how many procedures he or she has done. While higher volume does not necessarily imply a better surgeon, you will want someone who has done at least several hundred surgeries. Ask what his or her success rate is for 20/25 vision or better. What is his or her loss rate of best corrected vision?
Remember, when evaluating the criteria you feel that a LASIK surgeon should meet, take time to listen to your feelings. This is one sure way to feel comfortable with the surgeon you finally select. At any point in the decision-making process, should you have doubts about the surgeon or his or her medical opinion, go elsewhere and obtain a second opinion.
Ask How Many LASIK Procedures the Surgeon Has Performed
It is important to be specific with regard to LASIK since many surgeons have performed other laser procedures that require different skills than those required for LASIK. Just because the surgeon has done thousands of retinal or glaucoma procedures does not mean that he or she has done many LASIK procedures.
Does the Surgeon Maintain a Database of Procedures?
This database will allow the surgeon to provide you with statistics regarding his or her results. Specifically, the surgeon will be able to provide you with a reasonable prediction of what your result will be (based on your preoperative refraction) and the likelihood of needing an enhancement procedure to fine tune your result.
Choose the Right Surgeon and Pay What It Costs
Discount surgery is as good as a discount parachute. Many advertisements push low-cost surgery. This is an important warning signal to proceed with caution. Go for the best qualified surgeon.
Use Only an FDA-Approved Laser
If your LASIK procedure will be performed in the United States, make sure it is done on an FDA-approved excimer laser. Ask what laser your doctor uses, then contact the laser company directly to confirm whether he or she is qualified to use it.
Beware of the Hard Sell
If you feel like you are getting a hard sell, you probably are. Be wary of promises or guarantees seen in advertisements, such as "20/20 vision or your money back" or "lifetime guarantee." Of necessity, such statements contain fine print and initiate the doctor-patient relationship in a rather deceptive manner. Go elsewhere. Run--don't walk! You are not buying a car. This is real surgery. Your surgeon should be well aware of the limits of LASIK and readily acknowledge the probability of complications in high-risk patients.
Keep Searching
Many leading LASIK surgeons have taken the extra effort to establish web sites that detail their practice, qualifications, and success rates. Be certain to ask for the Internet address of each surgeon you are considering. And while you investigate, don't lose sight of the benefits: For most people, a lifetime of bad vision can be cured in twenty minutes.
LASIK has improved the eyesight of over a million people around the world. Your LASIK surgeon need not be your best friend, but you should have every confidence that he or she possesses the skill and experience necessary to apply the technique of LASIK in a way that best serves your interests.
What to Look for
Always investigate and evaluate the following criteria before deciding upon a surgeon:
Training and education
Certifications--board certifications as well as manufacturer certifications on lasers and microkeratomes
Professional memberships and important offices held
Training and teaching activities
Research and writing activities
Awards and recognitions
Reputation
The equipment the surgeon uses
If you're interested in bladelessLASIK, choose experience and technology. Choose Wang Vision 3D Cataract and LASIK Center of Nashville, Tennessee. Call (615)321-8881 or email us today.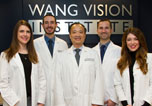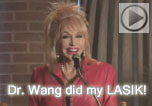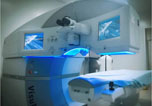 Our textbooks
A 501c(3) charity that has helped patients from over 40 states in the US and 55 countries, with all sight restoration surgeries performed free-of-charge.