Treatment for presbyopia (age-related loss of reading vision)
Wang Vision 3D Cataract and LASIK Center, Nashville, Tennessee
FOREVER YOUNG™ lens surgery
"Tapping the fountain of youth"
Wang Vision is the ONLY center in TN that offers the new "FOREVER YOUNG™ lens surgery". It utilizes four state-of-the-art technologies, a combination which is available only at Wang Vision (see below). FYL surgery can "turn back the clock" for your vision, giving you a new, youthful and extended RANGE of vision, also reducing your need for reading glasses or bifocals.
1) Smart eye surgery (TN's first and only): This breakthrough technology allows Dr. Wang to "test drive" the implanted lens, in order to determine if it is the best lens for you, and do adjustments if needed, on the operating table before the surgery is finished!
2) 3D high-definition microsurgical TrueVision system (TN's first and only): A digital high resolution, highly magnified image of your eye is projected onto a large screen, which provides Dr. Wang with a new and unprecedented capability of superimposing pre-operative digital corneal topographies, with the digital image of your eye, in real time during the surgery, improving the precision and accuracy of the surgery and astigmatism correction.
3) Laser FYL surgery (TN's first): Traditional lens surgery is performed with a blade. Laser FYL surgery uses the accuracy and precision of a laser beam.
4) Laser astigmatism correction (TN's first): Dr. Wang has the most experience by far with this technology, more than any other surgeon in TN.
US FDA clinical trial research study: Wang Vision 3D Cataract and LASIK Center was one of afew centers in the US to conduct a US FDA clinical trial for a new breakthrough eye surgery to treat age-related loss of near vision (presbyopia).
"Presbyopia surgery to reduce the need of reading glasses", Nashville, TN The Tennessean, 12/14/09, reported by Christina Sanchez, staff writer
"Age Related Vision Loss Study in Nashville", Video Report of FDA Presbyopia Clinical Trial at Wang Vision 3D Cataract and LASIK Center from Fox 17, by -Erika Lathon
WKRN report: Dr Ming Wang Performs Surgery for FDA Clinical Research Study
"Nashville Among 3 Cities In FDA Eye Surgery Trial", a report from WSMV. Click here to watch videos.
Forever-young Lens surgery to treat presbyopia: click here to read the story of one of the first patients in the state to receive the new "FOREVER YOUNG™ lens surgery", a new multi-focal intraocular lens technology that enables a patient to regain reading vision after cataract surgery.
Bladeless LASIK to treat presbyopia: click here to read about the bladeless LASIKtechnology, which Dr. Wang introduced to the state and performed the first such procedure.When treating presbyopia, Dr. Wang uses bladeless LASIK to induce monocular myopia.
Laser cataract surgery to treat presbyopia, click here to learn about laser cataract tehnology - a new era in cataract surgery!
Charlie Daniels' 3D LASER smart cataract surgery with FOREVER YOUNG™ lens surgery (in Chinese), click here....
Why you should choose to have your presbyopia treatment at Wang Vision 3D Cataract and LASIK Center, Nashville, Tennessee:
One of the first in Tennessee to implant the "FOREVER YOUNG™ lens surgery", a new multifocal intraocular lens providing clear distance and reading vision
First in TN to introduce bladeless all-laser LASIK (over 55,000 procedures, over 5,000 on doctors)
First in the world to perform laser-assisted artificial cornea implantation
Published seven major textbooks:
Wang Foundation for Sight Restoration, a 501c(3) charity, has helped patients from over 40 states and 55 countries
Dr. Ming Wang, a Harvard & MIT graduate (MD, magna cum laude) and one of the few eye surgeons in the world who holds a PhD degree in laser physics, has always been at the forefront of research and development of new eye surgeries. He published a paper in the world renowned journal "Nature" and holds several US patents for inventions of new biotechnologies to restore sight. He was a former panel consultant to the US FDA Ophthalmic Device Panel, and was a primary reviewer for the FDA's first LASIK clinical trial and approval of LASIK. He has performed many eye surgery, including the world's first laser-assisted Intacs ring segment implantation on a keratoconus graft, and the first laser-assisted corneal transplantation on post-cataract surgery eyes. He was a designated LASIK surgeon for ABC's national reality TV show "Extreme Makeover", and has performed surgeries on many celebrity patients who are over age 40, including Dolly Parton and Naomi Judd.
Together with our staff doctors, the team at Wang Vision 3D Cataract and LASIK Center offers state-of-the-art treatments for presbyopia (reading vision) for our patients over age 40.
Presbyopia and monovision treatment at Wang Vision 3D Cataract and LASIK Center include:
If you are interested in the presbyopia treatments offered at Wang Vision 3D Cataract and LASIK center, Nashville, Tennessee, please call us at (615) 321-8881 or email us.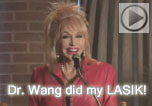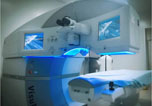 Our textbooks
A 501c(3) charity that has helped patients from over 40 states in the US and 55 countries, with all sight restoration surgeries performed free-of-charge.