Procedures performed at Wang Vision 3D Cataract and LASIK Center
Wang Vision 3D Cataract and LASIK Center, Nashville, Tennesseew
3D Bladeless All-Laser LASIK: Dr. Wang exclusively uses the Intralase femtosecond laser for all his LASIK procedures. We have eliminated use of the blade in the interest of safety and precision. Once the corneal flap is created to the exact depth and diameter that Dr. Wang desires, a VISX Star 4 Excimer laser is used to resurface the eye to improve the vision. Click here for more information.
Implantable Contact Lens (Visian Lens): Dr. Wang makes a small incision on the edge of the eye and inserts a permanent contact lens into the eye behind the iris. This procedure is currently approved for patients with severe myopia who are unable to undergo LASIK for full correction of their vision. For more information on this revolutionary surgery, click here .
CustomVue Bladeless LASIK : Vision is as individual as a fingerprint, and the Wang Vision 3D Cataract and LASIK Center has the technology to measure your visual errors with computer-driven precision. During the laser vision correction procedure, the eye is resurfaced according to the computer's recommendations rather than manual refraction. The goal is not only to eliminate the need for glasses but to protect the overall quality of vision.
Photorefractive Keratectomy : Also known as "surface ablation", PRK is a laser resurfacing of the eye similar to LASIK, but without the flap. This procedure may be a better option than LASIK for some patients, and it may be combined with a Custom Wavefront ablation.
Phototherapeutic Keratectomy : PTK is a treatment for corneal scarring, recurrent corneal erosions and corneal dystrophies. It is similar to PRK but there is no refractive correction.
Laser-assisted Intacs : Keratoconus is a corneal disease leading to vision loss. Historically, options for patients with keratoconus were limited to gas permeable ("hard") contacts and corneal transplantation. We are proud to offer laser-assisted INTACS for these patients in an effort to stabilize the disease, improve the vision and enable patients to return to comfortable contact lens wear. For safety reasons, we use the femtosecond laser to create the channels with minute precision, required in eyes with thinning due to keratoconus, rather than the manual instrument.
YAG Laser : This instrument is used to perform procedures in-office to treat secondary cataracts, narrow angle glaucoma and to prepare patients for Visian ICL implantation.
Dry eye syndrome (DES) is a chronic lack of sufficient lubrication and moisture in the eye. It can range from mild constant irritation to severe ocular inflammation of the front surface of the eye.
Reconstructive Eye Surgery : Dr. Wang is at the forefront in the development of new eye reconstructive surgeries to restore vision in patients who have been previously diagnosed as blind. These patients come from around the world to see Dr. Wang.
Artificial Cornea - Dr. Ming Wang is especially interested in using the Alphacor artificial cornea in complicated corneal transplations, such as in replacement of failed grafts. Since March of 2004, Dr. Ming Wang has been performing the artificial corneal implantation in Tennessee, and now performs a combined procedure using the femtosecond laser in these patients. This is an off-label use for this technology, which allows for more precise incisions. We see patients for evaluation this procedure from around the world.
Pterygium : A pterygium is a raised, wedge-shaped growth of the conjunctiva. Patients suffering from this problem often report irritation, redness, tearing, light sensitivity and dry eye syndrome. In early stages, artificial tears and supportive therapy is typically prescribed. Since a pterygium is most commonly caused by sun exposure, protecting the eyes from sun, dust and wind is recommended. Instilling artificial tears liberally is also helpful. In some cases, steroid drops are prescribed to reduce inflammation. Dr. Wang specializes in the removal of these growths using AMT and fibrin glue--no stitches! This reduces the reccurence rate.
Amniotic Membrane Transplantation (AMT) : Researchers have discovered that a wound to a developing fetus repairs itself without a scar. Further investigation has revealed that the amniotic membrane, the thin membrane that surrounds the fetus in the womb, plays a key role in this "scar-less wound healing." For many people, the presence or absence of scarring in the cornea means the difference between blindness and sight. Corneal specialists are now using amniotic membranes to cover damaged corneas, allowing the eye to repair itself with a reduced amount of scarring. AMT is used to help healing in patients undergoing stem cell transplants, corneal surgery and pterygium removal.
Endothelial Transplant (DSAEK): When the back surface ofthe corneal fails, the cornea swells and vision becomes cloudy. Historically, pateints with corneal diseases such as Fuch's Endothelial dystrophy can benefit from a transplant of only the back part of the cornea. Dr. Wang performed this revolutionary surgery in May of 2005.
If you're interested in learning more about our surgical procedures, call (615) 321-8881 or email Wang Vision 3D Cataract and LASIK Center today.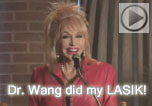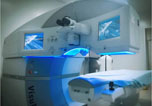 Our textbooks
A 501c(3) charity that has helped patients from over 40 states in the US and 55 countries, with all sight restoration surgeries performed free-of-charge.