The first cross-linking and Intacs surgeon in Tennessee Cross-linking and Intacs for Keratoconus, Nashville, TN
INTACS for Keratoconus
Wang Vision 3D Cataract and LASIK Center is an international referral center for keratoconus:
| | |
| --- | --- |
| | Cross-linking: TN's FIRST & ONLY |
| | Dr. Wang performed the first new Intacs surgery in the US for keratoconus: April 30, 2010 – Ming Wang, MD, PhD, and the Director of Wang Vision Cataract and LASIK Center in Nashville, Tennessee, has become the first surgeon in the United States to perform an Intacs® procedure using the recently FDA-approved expanded range for more severe keratoconus. Click here... |
| | To see a video of a 20-yo college student who became the first patient in the state to undergo Intacs for keratoconus, click here |
| | To read about a joyful e-mail of Mary Grance Guldeman, mother of Intacs patient Blaze, click here |
Current treatment for KC is laser-assisted Intacs rings. WVI in fact performed the world's first one particular version of this procedure, laser-assisted Intacs ring on keratoconus graft.
Our surgeon, Dr. Ming Wang, is a Harvard & MIT graduate (MD, magna cum laude), and is one of the few laser eye surgeons in the world who hold a doctorate degree in laser physics.
We specialize in the treatment of keratoconus and get patients referred here from various places (from over 40 states in the US and 55 countries to date).
We published 6 major textbooks in the keratoconus field:
Laser-assisted Intacs
Keratoconus is a corneal disease leading to vision loss. Historically, options for patients with keratoconus were limited to gas permeable ("hard") contacts and corneal transplantation. We are proud to offer laser-assisted INTACS for these patients in an effort to stabilize the disease, improve the vision and enable patients to return to comfortable contact lens wear. For safety we use the femtosecond laser to create the channels with minute precision, required in eyes with thinning due to keratoconus, rather than the manual instrument.
Keratoconus is a thinning of the cornea, typically causing distortion and loss of vision.  For more information on keratoconus, click here. In severe cases, the only treatment is a corneal transplant.  However, Dr. Wang performs two procedures that may delay or eliminate the need for corneal transplant in patients with this debilitating eye disease: PTK and laser-assisted femtosecond INTACS for keratoconus.
Dr. Ming Wang performed a revolutionary eye surgery in Nashville on May 20, 2004, when he performed Tennessee's first femtosecond laser-assisted INTACS procedure designed to stop the disease progression in keratoconic eyes and restore vision. Up to now, there has been no treatment available to stop or slow down the disease progression and many keratoconus patients' conditions are progressive, eventually requiring risky corneal transplantation. This procedure currently has special FDA approval, called a Human Device Exemption (HDE). The story of this first ever keratoconus surgery in Tennessee received a lot of media attention.
CityPaper, May 24, 2004. "Eye surgery makes first use of technique here"
Channel 2, May 24, 2004. "Tennessee's first new treatment for keratoconus performed"
Tennessean, May 5, 2004. "Eye Surgery History Made"
HealthCentral.com, August 13, 2004. "Strengthening Corneas"
News Cannel 8, Austin TX, August 16, 2004 "Strengthening Corneas"
On January 20, 2005, Dr. Wang performed this revolutionary femtosecond laser-assisted INTACS on a patient whose keratoconus had recurred on the corneal graft tissue.  Rather than consider another corneal transplant, Dr. Wang placed a ring segment in the graft to improve the shape of the eye, improve the vision and make contact lens wear possible.
If you're interested in laser-assisted INTACS for keratoconus, choose experience and technology. Choose Wang Vision 3D Cataract and LASIK Center of Nashville, Tennessee. Call or email us today.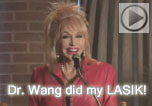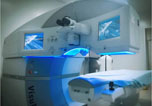 Our textbooks
A 501c(3) charity that has helped patients from over 40 states in the US and 55 countries, with all sight restoration surgeries performed free-of-charge.