Artificial Cornea, Boston K Surgery
Wang Vision 3D Cataract and LASIK Center, Nashville, Tennessee
| | |
| --- | --- |
| | Dr. Wang introduced a new type of artificial cornea, Boston K, to the state and restored sight in a patient who lost sight for 36 years. Click here to learn more.. |
| | Wang will perform middle Tennessee's second new artificial cornea Boston-K surgery to restore sight for John Swain, who has been blind for 3 years, Click here to learn more... |
AlphaCor is an artificial cornea made of a biocompatible, flexible, hydrogel material similar to a soft contact lens. It contains a central clear zone that provides refractive power and a peripheral skirt or rim made of a special material that encourages the eye to heal over the device. The device is available in two powers: one for those with no natural lens and one for those with a lens in the eye.
The surgery occurs in two stages: The first is the implantation of the AlphaCor device into the cornea of the recipient, and the creation of a protective conjunctival flap. The second is the removal of the protective flap to allow light to pass through the central clear zone to restore vision.
The device is recommended for those patients who have suffered multiple graft failures or those with blood vessel growth deep into the cornea.
In March of 2004, Dr. Ming Wang performed the AlphaCor artificial corneal implantation in Tennessee, and first described the combined procedure using the femtosecond laser**. This revolutionary procedure helps patients with extremely limited sight in which all conventional treatments have failed. We see patients for evaluation for this procedure from around the world.
In March of 2006, Dr. Wang performed a corneal transplantation combined with a saliva gland transplant for a man who suffered a molten metal injury to his face. He is one of several patients with amazing stories of courage and strength. Click to read the story and click here to view the video.
Click here to view frequently asked questions about artificial cornea.
If you're interested in AlphaCor surgery, choose experience and technology. Choose Wang Vision 3D Cataract and LASIK Center of Nashville , Tennessee . Call or email us today.
** Using the femtosecond laser in Alphacor implantation is not FDA approved and is performed off-label.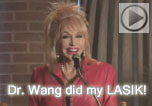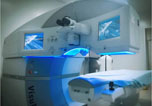 Our textbooks
A 501c(3) charity that has helped patients from over 40 states in the US and 55 countries, with all sight restoration surgeries performed free-of-charge.