The world's first combined saliva gland and laser artificial cornea patient regains VISION!
Wang Vision 3D Cataract and LASIK Center, Nashville, Tennessee
To view a video of Brad Barnes, the world's first patient who have undergone laser-assisted artificial cornea implantation, click here
After 13 years of blindness, Missouri's Brad Barnes finally saw his wife of 4 years, for the first time ever!
"I can see you now!!!" Brad exclaimed when he finally saw his dear wife, Jackie, for the first time ever, after four years of marriage!
"Yeah, that is me!" Brad smiled from ear to ear as he looked at himself in a mirror. The last time he saw himself was 13 years ago, before he suffered a 1500°C molten aluminum burn.
Internationally known eye surgeon, Dr. Ming Wang, MD, PhD of Nashville, TN restored vision to Brad Barnes of Saint Louis, Missouri, on 3/29/07. Brad became the world's first patient to receive the combined procedure of saliva gland transposition and femotosecond laser-assisted artificial cornea (Alphacor) implantation, an off-label procedure. On 3/29/07, when Dr. Wang removed the eye patch at Wang Vision 3D Cataract and LASIK Center from Brad, Brad was able to finally see his wife of 4 years Jackie, for the very first time. He regained his sight which he had permanently lost 13 years ago!
13 years ago, at age 31, Brad suffered from a devastating molten aluminum accident and completely lost sight in both of his eyes. After many extensive eye surgeries and consultations at several major medical centers, and in other countries, Brad was told that he would never be able to see again. During the past 10 years, Brad has lived in nearly total darkness (barely light perception vision). He married Jackie Barnes four years ago, but until now, he had never seen his wife Jackie.
Brad's journey to sight began again in the Fall of 2004, when he was referred by friends and doctors at St Louis, MO and at Washington University to Nashville, Tennessee's Wang Vision 3D Cataract and LASIK Center, to see Dr. Ming Wang. Dr. Wang is a Harvard and MIT graduate (MD, magna cum laude) and has a doctorate degree in laser physics. He holds a US patent for his invention of a new biotechnology to restore sight and published a paper in the world renowned journal Nature. He has helped develop some of the novel eye reconstructive surgeries to restore vision in severely corneal blind patients for whom all conventional treatments have failed. A clinical professor of ophthalmology, attending surgeon of Saint Thomas Hospital and the director of Wang Vision 3D Cataract and LASIK Center, Dr. Wang performed the world's first femtosecond laser-assisted artificial cornea (Alphacor) implantation, an off-labeled procedure.
Dr. Wang saw and examined Brad and concluded that he could not help him at that time, due to the fact that Brad had no tear production at all. The severe thermal injury 11 years prior had completely destroyed all of his tear-secreting glands.
Not to be deterred, Dr. Wang investigated with Brad and found that there is a new type of surgery called saliva gland transposition, in which an ENT surgeon transposes a patient's own saliva gland from the jaw area to the temple area so a patient can utilize his/her own saliva to moisten the eyes.
Interestingly, Dr. Wang found out that he had to send Brad back to where he came from, Saint Louis, MO, since there had been only one such saliva gland transposition surgery ever done in the US, which was performed by Dr. Randal Paniello of Washington University, St. Louis, MO. Dr. Wang contacted Dr. Paniello and referred Brad to his clinic.
In March of 2005, Brad underwent the 13-hour saliva gland operation. The surgery was a success. In the Fall of 2005, Brad's transposed saliva gland on his left eye began to moisten his left eye and he was finally ready to undergo Dr. Wang's sight restoration surgery.
But there was a final stall. Even though Dr. Wang had offered to perform the surgery and care free of charge, Brad and Jackie were unable to come up with the necessary financial resources to afford other costs such as travel, lodging, hospital and operating room costs.
On October 1, 2005 Brad and Jackie came to Nashville's Cheekwood Botanical Gardens to attend the first annual fundraising event of the non-profit organization, the Wang Foundation for Sight Restoration. Founded in 2003, the Foundation (www.wangfoundation.com) was established to help severely corneally damaged patients from around the world, for whom traditional surgeries all failed, to come to Nashville to undergo novel sight restoration surgeries performed free of charge by the foundation doctors.
To date, the foundation has attracted patients from over 40 states in the US and from over 55 countries worldwide. At the Eye Ball 2005, Brad and Jackie told the attendees about their struggle to find the right doctor who has the experience in helping severely damaged eyes such as Brad's. Brad told the audience that his biggest desire in life was to see his dear wife Jackie whom he had never seen. Brad's life and determination brought tears to many attendees' eyes. Shortly after the Eye Ball, the foundation received a generous grant from the James W. Pickle Foundation, which enabled the Wang Foundation to handle Brad and other patients as foundation patients. Finally, resources were available to enable Brad to undergo the surgery to rebuild his eyes!
With the Foundation's support and Dr. Wang waiving all fees, Brad underwent the laser artificial cornea procedure in May 2006, and became the first patient in the world to receive the combined procedures of a saliva gland transposition and laser artificial cornea implantation. The 1st and 2nd stage surgeries were successful in taking Brad from total darkness to seeing "a thousand times more light entering into my eyes", as well as colors (i.e., Jackie's sweater) on the day after the 2nd stage procedure in October 2006.
Now, when the eye patch was removed, after the 3rd and the last procedure, on 3/29/07 at 9am, Brad Barnes finally saw his wife's face for the very first time and has regained his vision after 13 years of being in the dark!
A combination of modern technology, and the loving hearts and giving spirit of Nashville's citizens and others has given Brad the gift of vision!
With the permission of Jackie, the following are the recent e-mails between her, her friends, and Dr. Wang:
4/3/07:
Hi Dr. Wang:
Hope all is well with you, and that Kajal is getting ready for her miracle!!

I got a nice e-mail from Charles Grummon about the great outcome of Brad's surgery.

I just wanted to give you an update on Brad's sight - He can see SO MUCH it is crazy! He can read small print, probably smaller than a 10 point font - he can read the Visine bottle and how many ounces there are and everything - in fact he can just about read smaller print that I can with my glasses off. He can see pretty far off in the distance too - he sees our whole backyard, his peripheral vision is good, and he can see the trees in the yard, the fence, the neighbors yard and house... Still blurry far away but VERY CLEAR up close!

He can see faces much better now, where before they were distorted and really almost scary to him, now people's lips are moving with their words, where before when people talked it was like a Japanese film where the lips didn't match up with the words! People's heads don't look "bald" anymore, and their ears don't looks like "Mr. Potato Head" ears anymore...

TV to him is fun - for whatever reason he can see faces better in two dimensional so he can see faces on tv better than in person, and he just can't get over the baseball players wearing "painters pants" now (before they were shorter pants tucked into their socks!) Cars are so cool looking, he says he feels like he has been shot 13 years into the future. The computers are cool because before if you had a black screen with amber writing you were high tech. Now there are pictures and graphics and everything! He was even playing our son Mitch's Gameboy. I have not seen this man smile so much EVER. He finds several things new everyday to see. Finally the weather cleared up here and he LOVES looking at the sky, the clouds, the trees, the GREEN grass...
It's like having a kid learning to walk or talk - I hate going to work because I am going to miss something.

Thanks so much for coming into our lives. You have such a giving and caring spirit. You are doing exactly what our Lord has said to do, serve others. I know when you see Jesus He will say "Well done, my faithful servant." You will get many crowns in heaven! There is just no way to thank you for what you have done. No way at all. Not only have you changed Brad's life, through his testimony you have changed thousands. Okay now I am crying again! THANK YOU!

Jackie
3/29/07
Dear Jackie and Brad:

It is truly a blessing, from God!!! I have been overjoyed today that Brad can now finally see, after 12 years!

It is so exciting that our charity sight restoration foundation (www.wangfoundation.com) can be a part of this!

Brad has a wonderful wife and truly a gem in Jackie, who has been so patiently waiting, working, and so dedicated to Brad's health and his arduous and inspirational journey from darkness to light, for all these years of their marriage, without Brad being able see her, at all.... it is truly amazing.

Attached is a release, of Brad's God miracle, by Todd. Also, our local Fox covered Brad's miracle today, FYI, see below:

(may need to paste into the upper left corner search window, to see this).

Warmly

Ming Wang

3/29/07
Thanks Kevin and Michael and Fay and Andrew and Pat and Vicky and Keelyn for coming by to see the miracle. Brad can see, Brad can read the bible, and is having so much fun looking at things! He is inspecting his dogs, fascinated with Kleenex and it was so fun to put him in front of the full length mirror and watch his expression as he looked at himself (I'm so big!") was his response! It's all God so ALL the glory goes to Him!He is still having a trying time figuring out faces - they are distorted and blurred but he can tell what people are wearing, he read Fay's shirt (JESUS Because of Him) he read Vicky's shirt (Take a Walk with Jesus) and Pat's shirt (Harley Davidson)of course! Anyone see a trend here Praise the Lord for Brad's sight. I knew it would happen and I am just speechless and just watching Brad look at things and enjoying every minute of it.AND - this is only the first day.It will only get better. Dr. Wang is the best surgeon in the whole wide world and we love him so much, we love Jesus so much and we love you all!!!!! Thanks for praying!!!!!!!

Jackie
3/29/07:
Vicky Rankin <vrankin@digitalcpt.com> wrote:
Pat just talked to Brad and they are driving down the road and he can see. His vision is very blurred right now but he can read things real close (like Fay) and he can see his hand, Jackie, the rearview mirror and the cars passing by on the road. He is freaking out - in a good way! The doctor said his brain has to remember how to see again so it will take a while. How awesome is our GOD SO AWESOME. What a great day.
God Bless,
Vicky Rankin
3/29/07:
From: Vicky Rankin
The latest news last night was the doctor believes Brad will actually see completely out of his eye. Not a blurred vision as he originally thought. Today he will take the bandage off and he will have about 50% this first day and then it will just get better!!!
HE COULD SEE HIS BANDAGE LAST NIGHT.
This is the best blessing God could give to our church and we are all a part of watching God's miracle unfold.
Thank you Jesus.
Vicky Rankin
3/28/07:
From: Vicky Rankin
Are you ready for this . . . Jackie just called and said the doctor told her to wear something cute tomorrow because Brad is going to SEE her! I am so excited and happy that I started crying and I couldn't talk to her anymore.
PRAISE GOD is all I can say.
Thank you all and God Bless,
Vicky

To watch the video report of Brad Barnes's story, click here ...
Related Articles: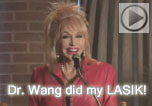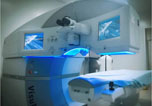 Our textbooks
A 501c(3) charity that has helped patients from over 40 states in the US and 55 countries, with all sight restoration surgeries performed free-of-charge.