Blinded Man Undergoes Revolutionary Surgery
Fox Health Watch, Channel 2 KT VI_St. Louis, Tom O'Neal, reporting
May 14th, 2006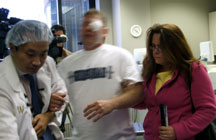 Brad Barnes was blinded in an industrial accident 12 years ago. Last year, Washington University 's Dr. Randal Paniello transplanted a salivary gland from under his jaw to his temple to restore moisture to his eyes. That has enabled Brad to undergo a unique surgery that could restore his sight.
Dr. Ming Wang is using new technology developed at his vision institute in Nashville to create a pocket in the eye and insert an artificial cornea. Dr. Wang says that Brad's eyesight won't be what it was, but it will be functional. "It's not 20-20. It's to restore vision from nearly complete darkness to some degree of vision one can take care of yourself at home."
In 3 months, Brad will return to Nashville to have the bandages removed. Dr. Wang told Fox 2 the combination of the salivary gland transplant done and his laser-assisted Alphacor artificial cornea surgery is a world's first.**
**This procedure is not FDA approved and is being performed off-label.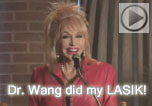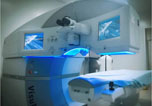 Our textbooks
A 501c(3) charity that has helped patients from over 40 states in the US and 55 countries, with all sight restoration surgeries performed free-of-charge.