CustomVue / Wavefront Bladeless LASIK
Wang Vision 3D Cataract and LASIK Center, Nashville, Tennessee
CustomVue Bladeless LASIK: Vision is as individual as a fingerprint, and Wang Vision 3D Cataract and LASIK Center has the technology to measure and treat your visual errors with computer-driven precision. The flap is made using the Intralase femtosecond laser, and then the eye is resurfaced according to the computer's recommendations, rather than by manual refraction.So instead of using "One or two?" method to design your surgical treatment, we use computer precision to give you best visual outcome. The goal is not only to eliminate the need for glasses, but to improve the overall quality of your vision. We were proud to be the first to perform the VISX CustomVue Wavefront LASIK treatment in Tennessee, and we are proud to offter this LASIK technology to our patients.
Custom LASIK using Wavefront Technology
Custom LASIK is based on technology used by astronomers to sharpen the image of distant objects that may have been distorted, for instance, by the earth's atmosphere. Aside from nearsightedness or astigmatism, vision can also be affected by "higher order aberrations". These aberrations lessen the clarity of what you see in dim light or at night, such as when driving.
Using a "wavefront analyzer" or "aberrometer", the unique aberration pattern of your eye is mapped. The wavefront map is then used to program a laser treatment customized exclusively for your eyes. To do this, active eye tracking is used. The excimer laser's small spot scanning feature allows for precise shaping to correct for aberrations, and the eye tracker ensures each laser pulse hits the intended position.
Custom Wavefront LASIK is a technological advancement over conventional LASIK, and may be advantageous to some people. While CustomVue LASIK may be very appropriate for some, it may be unnecessary, or could even be the wrong approach for others. Considerations such as the magnitude of your eye's higher order aberrations, pupil size and corneal thickness suggest more conventional treatments may actually be more beneficial. Certainly, bladeless LASIK (without CustomVue technology) will continue to work well for a large subset of LASIK patients, and we strive to give our patients the best visual outcome.
The following is a summary of clinical results and safety of the CustomVue Wavefront technolgy taken from VISX data submitted for U.S. Food and Drug Administration (FDA) approval:
96% of eyes had UCVA (uncorrected visual acuity) of 20/20 or better, 71% were 20/16 or better, and 22% were 20/12.5.
94% of eyes were within ±0.50 D of the intended correction.
87% were very satisfied with their night vision after surgery, compared to 69% before surgery. 88% never or rarely had halos after surgery, compared to 76% before surgery.
Related Articles:
If you are interested in CustomVue LASIK using Wavefront technology, choose experience and technology. Choose Wang Vision 3D Cataract and LASIK Center of Nashville, Tennessee. Call (615) 321-8881 or email us today.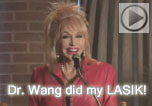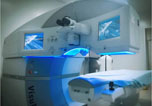 Our textbooks
A 501c(3) charity that has helped patients from over 40 states in the US and 55 countries, with all sight restoration surgeries performed free-of-charge.