3D Implantable Contact Lens (Visian Lens)
Wang Vision 3D Cataract and LASIK Center, Nashville, Tennessee
Patients with large amount of nearsightedness who were told they could not have LASIK may now be helped with an Implantable contact lens.
See related news reports: News story, and Channel 4 news at Five News story.
What Is Visian Implantable Contact Lens (ICL)? What is the bioptic procedure?
Dr. Wang is the first surgeon in the state to perform the Visian implantable contact lens (ICL) surgery while it was under investigation. ICL is a new technique that inserts an implant inside the eye, in front of the natural crystalline lens, to treat high range of refractive error. This exciting new procedure, which is similar to cataract surgery in technique. It utilizes a new lens gently placed inside the eye while leaving the natural lens untouched. This preserves the focusing mechanism of the eye in younger patients.
The Visian ICL implantation is performed in two steps:
A small opening is created in the iris of the eye to prevent problems with eye pressure after the lens in implanted. No one can see the opening, and this procedure is done with a laser at our center.
The Visian ICL is implanted. This procedure is done at a hospital rather than at our center, and requires the eyes be operated on different days. You will need eye drop medications similar to those used for LASIK to prevent infection and inflammation after surgery.
Most patients are satisfied with the visual results of this procedure. Higher refractive errors or patients with astigmatism may be require a BIOPTIC procedure, a "fine tuning" with Bladeless Intralase LASIK following the ICL implantation (now that the refractive error is 10% of the original prescription!) Dr. Wang was the first in the state to perform Bladeless Intralase LASIK.

If you're interested in learning more about the Visian ICL, call (615)321-8881 or email Wang Vision 3D Cataract and LASIK Center today.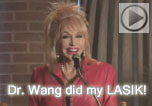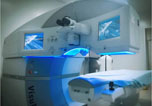 Our textbooks
A 501c(3) charity that has helped patients from over 40 states in the US and 55 countries, with all sight restoration surgeries performed free-of-charge.