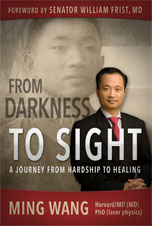 Our inventions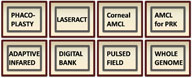 Our textbooks
Our new textbooks
Wang Vision Institute has a new site, click here to visit.
For all medical inquiries, please click here.
To visit Dr Ming Wang's personal site, click here.
---
Summary of the 3D laser vision surgeries for four age groups

---

Age 18+


3D SMILE® & 3D LASIK
Kenny Chesney
Age 21+
3D Implantable Contact Lens
TN's first
Age 45+
3D FOREVER YOUNG™ Lens
TN's first
Age 60+
3D Laser Cataract Surgery
Charlie Daniels
Why choose Wang Vision surgeons for your 3D laser vision procedures?
more...
Dr. Ming Wang, MD, PhD:
Harvard & MIT (MD, magna cum laude); PhD (laser physics)
One of the few cataract & LASIK surgeons in the world today who holds a doctorate degree in laser physics
Trained in all 4 of the nation's top ophthalmic institutions (Harvard Medical School (MD, magna cum laude), Wills Eye Hospital (ophthalmology residency), Bascom Palmer Eye Institute (corneal fellowship), John Hopkins (externship))
Harvard Medical School & MIT: Harold Lamport Award for Biomedical Research
U.S. FDA Ophthalmic Device Panel consultant
CEO of Aier-USA and Director of Wang Vision Institute
Honor Award from the American Academy of Ophthalmology
Lifetime Achievement Award from the Association of Chinese American Physicians
Kiwanis Nashvillian of the Year Award for lifetime dedication to help blind orphan children worldwide
Honorary doctorate degree, Trevecca University; NPR's Philanthropist of the Year
Dr. Joshua Frenkel, MD, MPH:
Trained at the #1 Microinvasive Glaucoma Surgery (MIGS) fellowship in the U.S.
Experienced in cataract and LASIK surgeries
MD and MPH with ophthalmology residency from the prestigious Tulane University
World-class team (Drs. Sarah Connolly, OD, Joshua Frenkel, MD, MPH, Marianne Johnson, OD, Nathan Rock, OD, Ming Wang, MD, PhD):
Helped patients from over 40 states in the U.S. and 55 countries worldwide
World-class 3D laser vision technologies:
World-class quality of care:
One location. All of our doctors are always here for you at Wang Vision, every day!
Before: Our surgeons personally answer all of your pre-op inquiries and see you during your evaluation.
During: Our surgeons personally perform 100% of your procedure.
After: Our surgeons personally call you after surgery, and we are always here, available to you, every day!
International referral center for treating cataract/LASIK complications