Wang Vision performs Tennessee's FIRST trifocal lens with laser surgery
Wang Vision 3D Cataract & LASIK Center, Nashville, Tennessee
Tennessee's FIRST surgeries with a breakthrough new technology trifocal intraocular lens with laser-assisted lens surgery was performed by Dr. Ming Wang, MD, PhD, director of Wang Vision Institute made this announcement.
Approved by the United States Food and Drug Administration, this trifocal intraocular lens (Panoptix) represents a revolution in lens technology after cataract surgery in the last 10 years. "At Wang Vision, we are proud to again be able to introduce a new vision technology to the state, and to enable patients in our state to enjoy an exciting, new, wider range of vision," stated Dr. Wang.
Like trifocal glasses, trifocal intraocular lenses offer a patient excellent vision in all three ranges: distance, intermediate and near. Dr. Wang explains that until now, multifocal technology has been limited to bifocal lenses, and some patients have diminished mid-range vision when the lens is designed to improve their distance and near vision. "Our previous technology could only correct two of the three ranges of vision, so our patients were often put in the position of having to choose which two of the three ranges they wanted, which meant they would have to sacrifice the remaining one. The new trifocal lenses will enable qualified patients to have their vision improved in ALL three ranges. This is an exciting, unprecedented breakthrough eye technology," Dr. Wang added.
The first two patients to receive these new trifocal intraocular lenses were Mrs. Michele Estes and Mrs. Jeanea Weigel. Mrs. Estes is a 53-year-old from Chapel Hill, TN who works as an executive assistant and hates wearing glasses, which she had needed for nearly her entire life. She needed glasses for all ranges, so she was excited about being among the first in the country to have Forever Young Lens surgery with this new lens implant technology because she would not have to compromise her distance, intermediate or near vision. Mrs. Weigel is a 49-year-old from Ethridge, TN who is a self-employed salesperson and had to wear progressive glasses, which she sometimes removed for reading. She was also excited to get rid of her glasses with the Forever Young Lens surgery performed with the new trifocal lens implants, and she looked forward to enjoying great vision at all ranges.
Not everyone is a candidate for the new trifocal lens technology. Dr. Wang emphasized that safety and optimal vision performance can only be obtained if the patient is a suitable candidate and the surgery is performed with the most accurate and safe technology available, similar to laser-assisted cataract surgery technology which was also introduced to Tennessee by the doctors at Wang Vision. For information about the new trifocal intraocular lens technology, visit www.wangcataractLASIK.com, call 615-321-8881 or e-mail Dr. Joshua Frenkel, MD, MPH, at jfrenkel@wangvisioninstitute.com.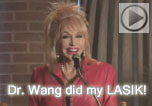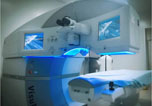 Our textbooks
A 501c(3) charity that has helped patients from over 40 states in the US and 55 countries, with all sight restoration surgeries performed free-of-charge.