Surgical vision correction at Wang Vision 3D Cataract and LASIK Center
Wang Vision 3D Cataract and LASIK Center, Nashville, Tennessee
Wavefront treatments:
Wavefront aberrometers measure higher levels of visual aberrations by shining a light into the back of the eye and recording the shape of the light wave as it is reflected back. The doctor can "see" these microscopic flaws in the eye's visual system by reading the wave pattern of the reflected light. The surgeon can then fine-tune the laser vision correction procedure to precisely reshape the cornea for optimal vision.
Wavefront technology may have some useful application in diagnostics and in improving our understanding of the visual system. Significant research is currently being conducted on the treatment of irregular corneal shapes, particularly in post-refractive surgery patients. The goal is to create custom corneal treatments based on information gathered from corneal topography and wavefront technology.
Experimental Presbyopic Surgical Treatments:
Presbyopia, or "short-arm syndrome," is an age-related loss of ability to see objects close to the eye. There are several new procedures in clinical trials that aim to reduce presbyopia. In the meantime, the current solution is "monovision", in which one eye is corrected for distance and one eye is corrected for reading. However, monovision is not for everyone. Only 3 out of ten presbyopic patients are good monovision candidates. Unfortunately, presbyopic patients may have to wait years for these new presbyopic surgical procedures to be fully developed.
Phakic Intraocular Lens:
Intraocular Contact Lenses (ICLs) are being surgically implanted into the eye to correct extreme refractive errors, while leaving the natural crystalline lens intact. ICL implantation is more invasive than LASIK, as it is an intraocular procedure that poses the risk of complications such as infection, retinal detachment or cataracts. They do, however, leave the cornea untouched. Dr. Wang prefers the Visian lens for his patients with severe myopia and those who are unable to be corrected with excimer laser techniques.
Bioptic:
If you're interested in reconstructive eye surgery, choose experience and technology. Choose Wang Vision 3D Cataract and LASIK Center of Nashville, Tennessee. Call or email us today.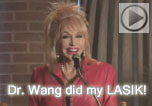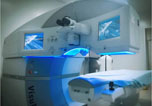 Our textbooks
A 501c(3) charity that has helped patients from over 40 states in the US and 55 countries, with all sight restoration surgeries performed free-of-charge.