TN's first cross-linking for keratoconus
A new breakthrough eye surgery to treat keratoconus and keratoectasia after LASIK
Wang Vision 3D LASIK and laser cataract Center, Nashville, Tennessee
| | |
| --- | --- |
| | Nashville Medical News article: TN's first cross-linking |
| | Tennessee Health & Wellness Magazine article: TN's first cross-linking |
| | Tennessee's first cross-linking, Tennessean report |
| | "Eye study offers hope for discharged sailor", By TomWilemon, The Tennessean, Feb. 2013 |
| | Ch 4/WSMV/NBC reporting: TN's first cross-linking procedure |
| | Cross-linking for keratoconus - TN's first: Ch 2/ABC news report |
Keratoconus affects one in every 200-500 Americans. Patients with this disease suffer from debilitating and progressive loss of vision. Keratoectasia, a related condition, can develop as a complication after LASIK surgery. To date, there have been no effective treatments for these conditions when they are in the advanced stage, and many patients eventually have to undergo risky corneal transplantation procedures. Dr. Ming Wang of Wang Vision 3D Cataract & LASIK Center, Nashville, TN, announced on 11/8/2012 that he performed the state's first cross-linking procedure--a new treatment for keratoconus and keratoectasia after LASIK.
"We are proud to be the first in the state and one of the first in the country to perform this new cross-linking treatment," Dr. Wang said. A world-renowned corneal specialist, Dr. Wang is a Harvard & MIT graduate (MD, magna cum laude) and one of the few cataract and LASIK surgeons in the world today who holds a doctorate degree in laser physics. He has published 5 major textbooks related to keratoconus, and runs an international referral center for keratoconus and keratoectasia after LASIK.
21-year-old Zachary Lee studied music and has played classical guitar since his early teen years, with a passion for music theory and classical guitar performance. He practices 4-5 hours each day, reading music scores as part of his normal class work preparation. In July of 2012, he started noticing a rapid decrease in his vision, and was referred by his local eye doctor to Dr. Wang, who diagnosed him with keratoconus, which carried the horrible, lifelong prospect of progressive loss of sight. Dr. Wang gave Zachary hope by describing an exciting and powerful new treatment for his condition called "cross-linking", for which Wang Vision is one of a small number of centers in the country selected to participate in a USFDA clinical trial for the breakthrough new technology. Cross-linking treats keratoconus by strengthening the cornea, resulting in a reduction of the risk of its progressive weakening and eventual loss of sight. Zachary and his parents were thrilled to find out recently that their son was selected by Wang Vision to participate in this new FDA cross-linking study. On 11/15/12, Zachary became the 2nd patient in the state to receive cross-linking (the first patient was Ms. Hazel Renee Douglas, who had cross-linking by Dr. Wang on 11/8/12).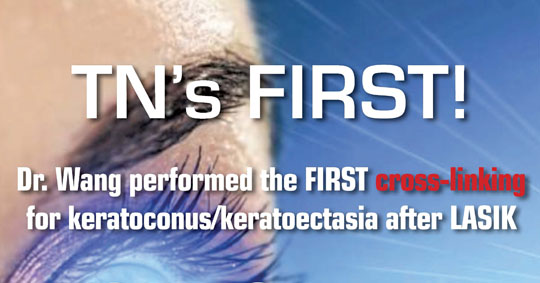 Keratoconus can also occur after LASIK--called "keratoectasia"—and conventional therapies often fail, causing these patients to have to resort to risky corneal transplantations. "The new cross-linking technology offers a hopeful treatment for these patients who have experienced this LASIK complication," Dr. Wang shared. Wang Vision 3D Cataract & LASIK Center is an international referral center for post-LASIK complications, including keratoectasia, and has taken care of patients from all over the US and the world in recent years.
For information about Dr. Ming Wang, contact www.WangCataractLASIK.com. E-mail: drwang@wangvisioninstitute.com. Wang Vision 3D Cataract & LASIK Center, 1801 West End Ave, Ste 1150, Nashville, TN, 615-321-8881.

| | |
| --- | --- |
| | The state first CXL- pt Hazal Douglas-and Dr Wang |
| | The CXL team-the state first CXL and the first patient Hazal Douglas |
| | The state first CXL- UV light on-cross-linking in action |
| | The state first CXL-cross-linking aiming beam just before UV light is on-photo |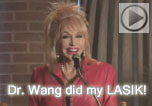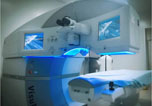 Our textbooks
A 501c(3) charity that has helped patients from over 40 states in the US and 55 countries, with all sight restoration surgeries performed free-of-charge.