TN's First Cross-Linking for Keratoconus
A new breakthrough eye surgery to treat keratoconus and keratoectasia after LASIK

Keratoconus affects one in every 200-500 Americans. Patients with this disease suffer from debilitating and progressive loss of vision. Keratoectasia, a related condition, can develop as a complication after LASIK surgery. To date, there have been no effective treatments for these conditions when they are in the advanced stage, and many patients eventually have to undergo risky corneal transplantation procedures.
Dr. Ming Wang of Wang Vision 3D Cataract & LASIK Center, Nashville, TN, announced on 11/8/2012 that he performed the state's first cross-linking procedure–a new treatment for keratoconus and keratoectasia after LASIK.
"We are proud to be the first in the state and one of the first in the country to perform this new cross-linking treatment," Dr. Wang said. A world-renowned corneal specialist, Dr. Wang is a Harvard & MIT graduate (MD, magna cum laude) and one of the few cataract and LASIK surgeons in the world today who holds a doctorate degree in laser physics. He holds several U.S. patents, has published five major textbooks in the keratoconus and corneal field, and runs one of the busiest referral centers in the world for keratoconus and keratoectasia after LASIK.
Patient Testimonial
Ms. Hazel Renee Douglas is a 25-year-old patient who experienced progressive loss of sight and was diagnosed with keratoconus. She could no longer carry out her normal daily activities and was very frustrated and afraid. Other than wearing hard contact lenses, which does not stop the disease progression, she was told that nothing could be done and she was likely to continue to lose her eye sight and might face the dreadful prospect of needing a risky corneal transplantation with a lifelong risk of corneal transplantation rejection.
Ms. Douglas heard about Dr. Wang's new procedure cross-linking and came to Wang Vision desperately seeking help. Wang Vision 3D Cataract & LASIK Center is currently the first and only center and one of a small number of centers in the country selected to participate in a U.S. FDA clinical trial for the breakthrough new treatment for keratoconus, cross-linking. The new procedure treats keratoconus by strengthening the cornea, resulting in a reduction of the risk of its progressive weakening and eventual loss of sight. Ms. Douglas was thrilled to find out she was selected by Wang Vision to participate in this new FDA cross-linking study. On 11/8/2012, Ms. Douglas became the 1st patient in the state to receive cross-linking.
A Hopeful Treatment
Keratoconus can also occur after LASIK–called "keratoectasia"—and conventional therapies often fail, causing these patients to have to resort to risky corneal transplantations. "The new cross-linking technology offers a hopeful treatment for these patients who have experienced this LASIK complication," Dr. Wang shared.
Wang Vision 3D Cataract & LASIK Center is an international referral center for post-LASIK complications, including keratoectasia, and has taken care of patients from all over the U.S. and the world in recent years.
For information about Dr. Ming Wang, contact www.WangCataractLASIK.com. E-mail: drwang@wangvisioninstitute.com. Wang Vision 3D Cataract & LASIK Center, 1801 West End Avenue, Suite 1150, Nashville, TN, 615-321-8881.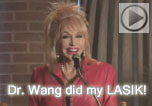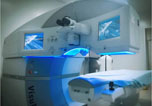 Our textbooks
A 501c(3) charity that has helped patients from over 40 states in the US and 55 countries, with all sight restoration surgeries performed free-of-charge.