Wang Vision 3D Cataract and LASIK Center Dry Eye Clinic
Wang Vision 3D Cataract and LASIK Center, Nashville, Tennessee
Wang Vision is the ONLY center in the world that offers the new "Amniotic Membrane Contact Lens (AMCL)" to treat dry eyes. Dr. Wang invented the technology, published a scientific paper about it, and obtained two U.S. patents (patent Nos. 5,932,205 and 6,143,315).

"Tapping the fountain of youth," the AMCL is a natural healing lens. It utilizes the scarless fetal wound-healing property of the amniotic membrane to help in healing the ocular surface of dry eyes that have not been responsive to all conventional treatments.

The goal of the AMCL treatment for dry eyes is to reduce inflammation and discomfort, and to allow the ocular surface to heal and recover from damage caused by dryness. It is anticipated that repeat applications of the AMCL may be needed.
| | |
| --- | --- |
| | Click here to see a video about the world's first patient who had severe dry eyes due to molten aluminum injury and who underwent a combined saliva gland transposition and laser artificial cornea implantation. |
We specialize in the treatment of dry eyes and have a specialty clinic "Wang Vision 3D Cataract and LASIK Center Dry Eye Clinic" (please contact us for the clinic schedule).
Trained in the world renowned Bascom Palmer Eye Institute which is an international leader in ocular surface disease and dry eyes, Dr. Wang and the team at Wang Vision 3D Cataract and LASIK Center have built a world-class dry eye clinic. Patients from various parts of the US and from around the world who have ocular surface diseases and dry eyes have come to WVI for care.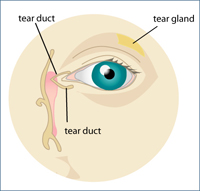 Dry eye syndrome (DES) is a chronic lack of sufficient lubrication and moisture in the eye. It can range from mild constant irritation to severe ocular inflammation leading to scarring.
Symptoms and Signs: Persistent burning and redness with fluctuation or blurry vision, especially when associated with a sandy, gritty feeling, are hallmark symptoms of DES.
Diagnosis: Symptoms alone may be enough for your eye doctor to diagnose DES. Other diagnostic tests include a measurement of the amount of tears in your eyes using a thin strip of filter paper placed at the edge of the eye, called a Schirmer test, or microscopic evaluation.
Causes: Tears bathe the eye, wash out dust and debris and keep the eye moist. They also contain enzymes that neutralize the bacteria near the eyelids. In DES, the eye doesn't produce enough tears, or the tears evaporate too quickly. DES can occur as a part of the natural aging process, as a side effect of certain medications such as antihistamines, antidepressants and birth control pills, or because you live in a dry, dusty or windy climate. DES is also common with systemic diseases such as lupus, rheumatoid arthritis, rosacea, thyroid or Sjogren's Syndrome.
Long-term contact lens wear may exacerbate dry eye syndrome. In fact, dry eyes are the most common complaint among contact lens wearers. Recent research indicates that contact lens wear and dry eyes can create a vicious cycle leaving patients uncomfortable and requiring decreased or discontinued use of contact lenses.
Incomplete closure of the eyelids, eyelid disease and a deficiency of the tear-producing glands are other causes. DES is also more common in women, possibly due to hormone fluctuations.
Treatment : Dry eye syndrome is a chronic condition, but the accompanying symptoms can be managed. Your eye doctor may prescribe artificial tears, lubricating eye drops that may alleviate the dry, scratchy feeling or in some cases, a mild steroid drop can reduce the inflammation associated with chronic dry eye. A new medicine called Restasis has also been highly effective for our patients.
Temporary or permanent silicone plugs in the tear ducts keep tears in your eye from draining away as quickly. The plugs can be inserted painlessly in the office and cannot be felt once inserted. Oral supplements and other oral medications are also available.
At Wang Vision 3D Cataract and LASIK Center, we routinely manage dry eye syndrome , from mild cases to the most severe, by tailoring the treatment to each individual's cause of dry eye signs and symptoms.
If you suffer from dry eye, visit the Wang Vision 3D Cataract and LASIK Center, Nashville, TN for help by calling (615)321-8881 or email us for an appointment with any of our staff doctors.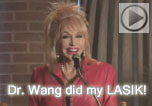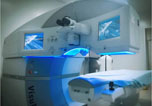 Our textbooks
A 501c(3) charity that has helped patients from over 40 states in the US and 55 countries, with all sight restoration surgeries performed free-of-charge.