The First to offer 3D Bladeless Intralase LASIK in Tennessee
Bladeless Intralase LASIK completely eliminates the use of any surgical blade in the LASIK procedure`
Wang Vision 3D Cataract and LASIK Center, Nashville, Tennessee
3D LASIK – TN's only
3D LASIK, which we performed the first such procedure in the world, treats all ranges of refractive errors including myopia (nearsightedness), hyperopia (farsightedness) and astigmatism, to reduce your dependence on glasses or contacts.
Click here to book a 3D LASIK evaluation.
1) Dr. Wang was the first in the world, and is currently the ONLY surgeon in TN, to perform 3D LASIK!
2) While other centers may use 3D technology for pre-surgical testing, Wang Vision is the only center in TN that uses 3D technology to help perform the actual LASIK surgery itself.
3) Dr. Wang performed the state's first bladeless all-laser LASIK, and currently is the only surgeon in the state who uses this technology to perform 100% of the LASIK procedures.
4) A graduate of Harvard & MIT (MD, magna cum laude), Dr. Wang is also one of the few cataract & LASIK surgeons in the world today who holds a doctorate degree in laser physics.
Dr. Wang's Bladeless LASIK Celebrity patients
Kenney Chesney
Dolly Parton
Julianne Hough, winner, "Dancing with the Stars"
3 Doors Down's Brad Arnold
3 Doors Down's Todd
Rudy Kalis
Jo Dee Messina
Naomi Judd
Jeremy Davis
Wang Vision 3D Cataract and LASIK Center is typically the first in the state to introduce:
3D LASIK - TN's FIRST & ONLY
Special promotion:
$1,000* off before the end of this month!

NBC/Ch 4: TN's only 3D LASIK and 3D FOREVER YOUNG™ lens surgery (for age 45+ to be freed of reading glasses)

Dr. Wang describes the four 3D laser vision surgeries:
3D SMILE and 3D LASIK (18+)
3D Implantable Contact Lens (21+)
3D 3D Forever Young ™ Lens (45+)
3D Laser Cataract Surgery (60+)

Nashville Medical News article: 3D image-guided high-definition LASIK
The most severe surgical flap complications are related to problems with flap creation using a surgical blade ("microkeratome"). Reports in medical literature document increased safety using the bladeless Intralase technique and Dr. Wang feels this method is superior to previous blade technology.
| | |
| --- | --- |
| | Two lasers are used in our bladeless Intralase LASIK procedure.  The Intralase laser is a femtosecond laser (0.000000000000001 second), different from the type used to resurface the eye.  It directs its laser beam into a tiny 3 micron (0.003 mm) spot, which is focused to a precise depth within the cornea. |
| | In one minute, using computer precision and an extremely high speed of delivery, approximately 1 million pulses are delivered to the exact location desired by the surgeon.  Discrete laser bursts create a million tiny bubbles which result in separation of the cornea and creation of the flap. |
| | The surgeon lifts the flap and uses another type of laser (Visx Star 4) to correct the vision.  Dr. Wang performs an excimer laser treatment to resurface the eye, allowing you to see without glasses.  After the excimer laser treatment, the flap is placed back into its original position. |
Articles about 3D bladeless all-laser LASIK:
If you're interested in bladeless Intralase LASIK, choose experience and technology. Choose Wang Vision 3D Cataract and LASIK Center, Nashville, Tennessee. Call
(615) 321-8881 or email us today.
* Please note that this promotional discount cannot be combined with any other discount or savings certificate.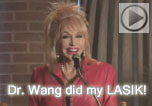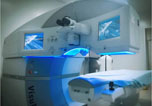 Our textbooks
A 501c(3) charity that has helped patients from over 40 states in the US and 55 countries, with all sight restoration surgeries performed free-of-charge.