Wang performed Middle Tennessee's first new Boston-K artificial corneal surgery
The first-of-its-kind procedure restores sight after 36 years to a 53-year-old man from Jackson, TN
Wang Vision 3D Cataract and LASIK Center, Nashville, Tennessee
| | |
| --- | --- |
| | Click here to read an article on the state's major newspaper the Tennessean about the mid state's first new artificial cornea Boston K transplant performed by Dr. Wang for Randy Mathenia. |
(Nashville, TN, USA, October 20, 2008) Ming Wang, MD, PhD, Clinical Professor of Ophthalmology for the University of Tennessee, and Director of Wang Vision 3D Cataract and LASIK Center, performed the first Boston-K on 10/15/08, a new type of artificial cornea surgery in middle Tennessee. The recipient of this innovative procedure is Mr. Randy Mathenia, a 53-year-old man from Jackson, Tennessee. Mathenia lost sight in his left eye due to trauma 36 years ago. The surgery took place at 2pm on Wednesday, October 15th at Saint Thomas Hospital, and it was successful!
In 1972, Randy Mathenia suffered severe trauma to his left eye, which resulted in his loss of sight in that eye. He has since had many major eye surgeries, including three failed corneal transplantations. Because of these unsuccessful surgeries, he is considered a high risk for rejection of any further corneal transplantation procedures that might be performed.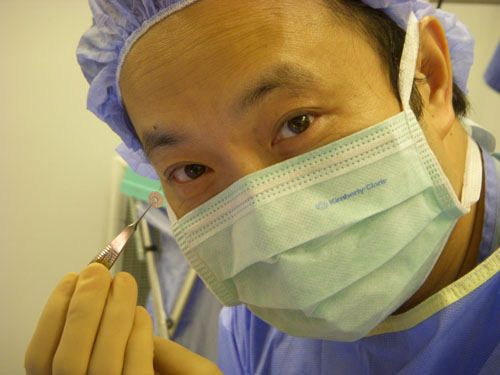 Dr Wang holding boston-k
Mathenia has seen many eye doctors and was given no hope of ever seeing out of his left eye again. Undaunted, he searched around the country to find a surgeon who may have the surgical expertise to help him see again. His eye doctor in Memphis, David Myers, MD, referred him to Dr. Ming Wang of the Wang Vision 3D Cataract and LASIK Center in Nashville. After seeing Mr. Mathenia, Dr. Wang determined that the only chance he had of possibly being able to see again out of his left eye was to use one of the most innovative types of artificial corneal designs available today, the Boston K. The Boston K is about the size of a contact lens and sits in the center of a donor cornea. This device is used to restore sight in patients like Randy Mathenia, for whom all conventional surgeries have failed.
Dr Wang is performing boston-k
"I can't believe it! I have been waiting for this for 36 years!" a very thrilled Mr. Mathenia beamed. He has been seeing Dr. Wang for the past year and has been patiently waiting for his turn to be treated. He said that he is very excited to be the first patient in middle Tennessee to undergo this ground-breaking surgery, and he is delighted that the surgery went so well and his vision has already improved!
| | |
| --- | --- |
| | |
| Boston-k is being placed onto recipient | Boston-K completed |
"It is truly a blessing that we have this revolutionary technology that can give Mr. Mathenia a chance to see out of his left eye again," Dr. Wang said. "We hope that by introducing this technology to middle Tennessee, more and more Tennessean patients who have severe loss of sight due to corneal injuries can be helped. The surgery went great and Randy can already see better today, with more light entering the eye", Dr. Wang added.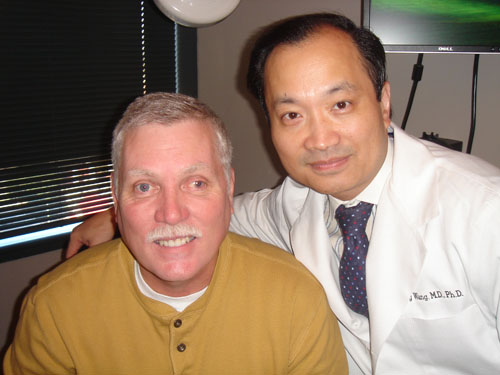 Dr. Wang is a Harvard and MIT graduate (MD, magna cum laude), and is one of the few eye surgeons in the world who holds a doctorate degree in laser physics. He published a paper in the world renowned journal Nature, holds a US patent for his innovation of new biotechnology to restore sight, and performed the world's first laser-assisted artificial cornea implantation. Dr. Wang founded a charity, the Wang Foundation for Sight Restoration, which has helped patients from over 40 states and 55 countries worldwide in various ways, with all sight restoration surgeries performed free-of-charge.

For information about Boston-K artificial cornea surgery, e-mail drwang@wangvisioninstitute.com, or contact Wang Vision 3D Cataract and LASIK Center, 1801 West End Ave, Ste 1150, Nashville, TN, 37203, 615-321-8881, wangvisioninstitute.com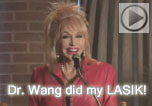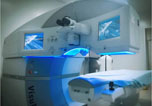 Our textbooks
A 501c(3) charity that has helped patients from over 40 states in the US and 55 countries, with all sight restoration surgeries performed free-of-charge.