Laser Vision Correction
Wang Vision 3D Cataract and LASIK Center, Nashville, Tennessee
Bladeless LASIK reduces fear factor of vision correction surgery
Advanced Laser Technology in Nashville Boosts Patient Confidence and Results in Having Vision Correction Surgery
Use of Femtosecond Laser More Accurate, Reduces the Risk of Complications for Patients of Dr. Ming Wang and Wang Vision 3D Cataract and LASIK Center, home of Tennessee's Only revolutionary technology IntraLASE® FS Laser.
( Nashville, Tennessee ) -- Laser vision correction is now more accurate than ever, thanks to the femtosecond laser that Ming Wang, M.D., Ph.D. is employing for his eye patients at Wang Vision 3D Cataract and LASIK Center in Tennessee.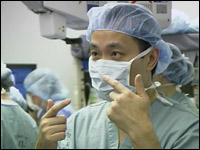 Instead of the traditional surgical blade, the bladelessIntraLASE ® FS Laser that he uses is an entirely new way to create the corneal flap, the first step in the LASIK procedure. In a traditional blade LASIK surgery, a surgical blade is inserted into a mechanical hand-held device called a microkeratome which is then used to cut across the cornea. This part of the LASIK procedure has been cited as a source of complications -- the vast majority of the complications that arise with traditional blade LASIK surgery are related to the creation of the flap with the surgical blade.
Instead, using the revolutionary bladeless all-laser approach to create the corneal flap with the computer-controlled precision of a laser, Dr. Wang, a staff surgeon at St. Thomas Hospital, customizes the creation of the flap for each patient with micron level accuracy. The laser-created flap is more accurate and precise than previous scalpel method.
"Patients have trusted us with one of their most important senses, the eyesight. That is why I think it is so significant that we now have a technology by which we can create a corneal flap completely with laser and bladeless. The femtosecond laser enhances our ability to provide our patients with the best vision correction experience," notes the refractive eye surgeon who was trained at Harvard Medical School and MIT and completed his residency at Wills Eye Hospital and corneal fellowship at Bascom Palmer Eye Institute. He is one of the few LASIK surgeons in the world today who holds a doctorate degree in laser physics. Dr. Wang has already performed more than 500 surgeries using this advanced laser since last November. Many of his patients have been thrilled with their amazing vision after the bladeless surgery, achieving better than 20/20 vision.
Currently, 41 IntraLASE FS Lasers are being used by 54 eye surgeons in the U.S. and more than 37,000 IntraLASIKs have been performed in the United State to date. Dr. Wang however is the only surgeon in Tennessee employing this laser and is among an elite group of key opinion leaders nationwide adopting the revolutionary and proven IntraLASIK to ensure maximum precision and peace of mind for patients.
"We're now able to perform the surgery with computer-controlled accuracy." said Dr. Wang, who is also an active researcher and scientist for many years in the field of lasers and vision correction. "That means patients can feel more confident in choosing vision correction surgery."
More than 95% of his patients are now choosing to have their LASIK done with the bladeless all-laser technology. And more people are finding themselves to be good candidates for laser vision correction due to the improved technology, adds Dr. Wang. "In the past, patients with certain corneal thickness and prescription ranges were turned away as candidates for conventional blade LASIK. That's changed. The bladeless all-laser LASIK technology is allowing us to make vision correction surgery available to more patients."
He also says that many of his patients cited fear of a surgical knife and its associated risk as the main reason that why they chose not to have vision correction in the past. Now since this bladeless option has become available in Tennessee, they had gone ahead and had the vision correction and are extremely pleased with the visual outcome as well as the added comfort and reduced fear factor. Dr. Wang said. "Those patients are now enjoying lives freed of dependence of glasses or contact lenses which has dramatically improved the qualify of their lives."
For more information about the IntraLASE laser, contact Dr. Wang at (615) 321-8881 or visit: www.wangvisioninstitute.com.
About conventional blade LASIK and the bladeless IntraLASIK:
LASIK laser vision correction is a two-step process. First, a thin flap of the eye's corneal tissue is created and folded back. Then a laser reshapes the interior of the cornea, and the flap is replaced. In traditional blade LASIK surgery, the corneal flap is created with a mechanical hand-held device that houses a blade, called a microkeratome. While this generally provides good results, the mechanical flap-cutting part of the procedure can cause complications because it is difficult to ensure an accurate depth and consistent thickness of the flap with surgical scalpel.
The revolutionary bladeless technology does not use any blade or scalpel to create the corneal flap. Instead, the IntraLASE® FS (femtosecond) laser's energy passes through the outer layers of the cornea until reaching its exact focal point in the central layer. The laser then works in an "inside out" process, precisely defining a flap plane and the amount of tissue below that plane. The resulting corneal flap is folded back and the vision correction treatment is accomplished as usual. Then, the corneal flap is folded back onto the eye to complete the surgery.
The IntraLASE® FS Laser and accompanying IntraLASIK® proprietary software are offered exclusively by IntraLase Corp., Irvine, California. Visit the company's website at www.intralase.com for more information about the femtosecond laser technology.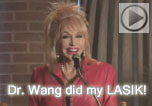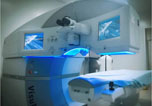 Our textbooks
A 501c(3) charity that has helped patients from over 40 states in the US and 55 countries, with all sight restoration surgeries performed free-of-charge.