Laser Eye Surgery
Wang Vision 3D Cataract and LASIK Center, Nashville, Tennessee
Nashville, Tennessee doctor does special corneal transplant for woman
By Sameh Fahmy
Staff Writer
Tuesday, 17 May 2005
Nashville, TN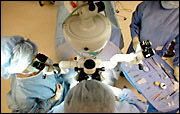 Dr. Ming Wang performs a new type of corneal transplant on Anna Maxwell, 78, of Nashville as nurses Sharen Winczewski, left, and Sherrie Stevenson assist him at Saint Thomas Hospital.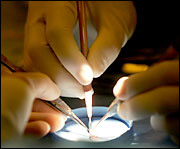 Dr. Ming Wang works on a new cornea before transferring it to Anna Maxwell. This surgery aims to cut risk of infection and complications
If your car needed a new alternator or some new belts, it wouldn't make much sense to replace the entire engine, now would it?
But Dr. Ming Wang, clinical associate professor of ophthalmology at the University of Tennessee and staff surgeon at Saint Thomas Hospital, said a similar situation occurs in about half of the 50,000 Americans who undergo corneal transplant surgery every year: They have their entire cornea replaced when all they need is to replace part of it.
Yesterday, Wang, who also directs the Wang Vision 3D Cataract and LASIK Center, performed a new type of corneal transplant that replaces only the diseased portion of the cornea.
The new surgery aims to reduce the risk of surgical infection and complications while improving vision faster and better than traditional surgery. It's already given 78-year-old Anna Maxwell of Nashville a new chance at sight.
Those with disorder benefit
The cornea is the clear, outermost portion of the eye. About half of the nation's corneal transplants are performed in people with an inherited disorder called Fuch's dystrophy. For people with the disorder, the inner layer of the cornea, called the endothelium, gradually deteriorates as they age. It's these patients, Wang said, who can benefit from the new surgery.
Maxwell's disorder was accelerated by a cataract surgery gone wrong. When doctors perform cataract surgery, they break up the patient's lens, suction it out and replace it with an artificial lens. Wang suspects that the turbulence caused by the breakup and removal of the lens damaged the already delicate inner layer of Maxwell's cornea.
Maxwell couldn't see immediately after her cataract surgery two years ago, and as time progressed her right eye began to feel like ''there was broken glass in there,'' she said.
Prescription eyedrops and special bandages eased the pain, and yesterday she underwent surgery to restore the sight that was taken from her.
''If it's God's will, I'll see much better,'' Maxwell said, eager to be able to read the Bible again.
Wang expects Maxwell's vision to improve gradually after her 45-minute surgery. She should be able to see again within one to three months, he said, compared with six months to a year with the traditional surgery.
New, evolving technology
The less invasive surgery was conceived about a decade ago, but the advent of new scraping and inserting tools this year has made it a more viable alternative. Still, some doctors aren't fully convinced of its benefits.
''It's a new technology and it's evolving,'' said Dr. Walter Stark, professor of ophthalmology and director of cornea and cataract services at the Wilmer Eye Institute of the Johns Hopkins Medical Center. ''And the overall quality of vision is about 10% to 20% less than one would get with a full-thickness transplant.''
Stark explained that sandwiching two pieces of tissue together creates some reflection or glare that reduces quality of vision. The surgery does offer improved recovery time and reduced risk of infection, however, and Stark said doctors are still figuring out how to best balance its benefits and limitations.
Hopkins has been offering the surgery for the past six months, and Stark said it appears to work best for people with milder forms of Fuch's dystrophy.
Wang said previous endothelial transplants (DSAEK) had a wide range of results - from very good to very poor - compared with traditional surgery, but he anticipates that the new cell-stripping technique will result in a better tissue match and better vision.
As with any new procedure, it'll be years before solid data comparing it with other procedures becomes available. But doctors in ancient Greece aspired to use ''magic bullets'' to target the diseased tissue while sparing the rest, and Wang said this new advance brings medicine closer to that. ''I believe this is a big step in moving toward realizing humankind's aspiration, starting from Greek times, to always having magic bullets for our ailments,'' Wang said.
Sameh Fahmy covers consumer health for The Tennessean. Reach him at sfahmy@tennessean.com or by phone at 259-8072.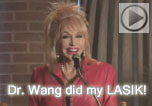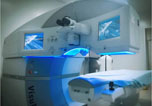 Our textbooks
A 501c(3) charity that has helped patients from over 40 states in the US and 55 countries, with all sight restoration surgeries performed free-of-charge.