Nashville Among 3 Cities In FDA Eye Surgery Trial
Surgery Attempts To Reverse Eye Problems From Aging
Wang Vision 3D Cataract and LASIK Center, Nashville, Tennessee
NASHVILLE, Tenn. -- Nashville eye surgeon Dr. Ming Wang is among three surgeons in the U.S. taking part in a government trial for a new procedure to reverse vision problems due to aging.
The surgery, scleral spacing procedure, or SSP, basically gives your eyes the flexibility they had when you were younger. The surgeon inserts a scleral expansion band that's about the size of a grain of rice within the wall of the eye.
The band creates additional space around the lens of the eye, allowing the eye to regain its accomodative ability that is typically lost with age.
Wang estimated about 330 people nationwide will be taking part in this surgery, which is being performed for free in the trial. Wang Vision 3D Cataract and LASIK Center is currently recruiting patients. You must be between the ages 50 and 60, had no prior eye surgeries and have no eye health issues, diseases or conditions.
The public can reach Wang Institute at 615-321-8881, 1801 West End Ave., Suite 1150, Nashville, Tenn.
Copyright 2010 by WSMV.com. All rights reserved.
To learn more about FDA clinical trials at Wang Vision 3D Cataract and LASIK Center, click here ...
To learn if you are qualified to attend this FDA clinical trial for presbyopia treatment, please call Wang Vision 3D Cataract and LASIK Center, Nashville TN at (615)321-8881 or email us.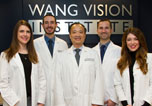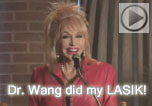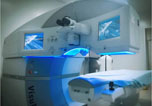 Our textbooks
A 501c(3) charity that has helped patients from over 40 states in the US and 55 countries, with all sight restoration surgeries performed free-of-charge.