Fox/WTVF reporting of Dr. Ming Wang Performs the first new investigative eye surgery SSP in the southern United States
-Erika Lathon
Wang Vision 3D Cataract and LASIK Center, Nashville, Tennessee
Wang Vision 3D Cataract and LASIK Center Cataract and LASIK Center is currently one of few centers in the U.S. conducting this FDA clinical trial research study. Dr. Wang is one of three surgeons in the US today allowed by FDA to perform thiis surgery.
Its a breakthrough surgery that could have older adults throwing away their reading glasses for good.

One mid-state doctor says the procedure can give a 60-year old the vision of someone twenty years younger.

Nashville is one of only three cities participating in the clinical trial.

Fox 17's Erika Lathon reports.

The Ming Wang Vision 3D Cataract and LASIK Center is breaking new ground ...

its to conquer one of the latest frontiers in medicine, that is aging."

Dr. Wang is one of one of only three u-s doctors participating in an fda clinical trial to improve the age related loss of near-vision ... a condition called Presbyopia.

"it shows that perhaps at least in the eye we can conquer aging and the aging process."

as we age ... we lose the ability to see things close up.

this happens because of a gradual change in the lens of the eye.

"the lens gets bigger and bigger as we get older, so the less space around the lens for the lens to contract and change shape."

This change in the eye begins around age forty ... impairing the ability to focus ... leading many people to rely on reading glasses.

but dr. wang has discovered that by surgically expanding the eye wall ... the lens has room to focus ... restoring the near vision.

"we implant four segments around the eye wall to enlarge the space around the lens so the lens can change shape and accommodate and see distance and near more efficiently."

Dr. wang is one of only three doctors in the u-s authorized to perform the surgery called ... scleral spacing.

He'll recruit 50 patients as part of a free ... 2 year fda clinical trial.

wang says its a trial that may be able to keep your eyes FOREVER YOUNG.

"That means a 65 year old patient can read and focus like a 40 year old. a sixty year old can read and focus after the procedure like a 35 year old."

its to conquer the last frontier in medicine, that is aging.

Erika Lathon, Fox 17 news.
To learn more about FDA clinical trials at Wang Vision 3D Cataract and LASIK Center, click here ...
"Presbyopia surgery to reduce reading glasses need", Nashville, TN The Tennessean, 12/14/09, reported by Christina Sanchez, staff writer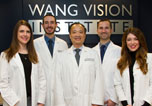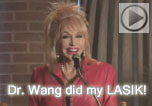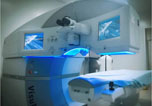 Our textbooks
A 501c(3) charity that has helped patients from over 40 states in the US and 55 countries, with all sight restoration surgeries performed free-of-charge.