American Music Channel Honors Ming Wang, M.D.'s Music for Sight
Ming Wang, M.D. is a busy man. An innovative eye surgeon, a laser physicist, a champion ballroom dancer, a musician, and a philanthropist, Ming Wang, MD, PhD, is the epitome of a modern-day Renaissance man, and yet, despite all of these gifts, Dr. Wang still finds time to give generously back. We in Nashville are fortunate to have Dr. Ming Wang as a gracious leader and active member of our community. As part of his service work in Music City, Dr. Wang has chosen to combine his creative and medical abilities to create foundations like The Wang Foundation for Sight Restoration that annually hosts the EyeBall, a black-tie event to benefit the foundation's patients, and projects such as Music for Sight, music performance to raise public awareness of the Wang Foundation. It is these charitable efforts toward combining music and dance with the medical and financial capacity to restore vision that makes Dr. Ming Wang and The Wang Foundation American Music Channel's choice feature for this month's Giving Back.
Medical History
Ming's life story began with poverty and hardship. Born in China, he learned to play the er-hu, an ancient Chinese violin, at age 14 to escape the devastating fate of deportation and a life of misery, a fate that fell on millions of Chinese youth. "I started playing not really as a passion for music or love of music, but just to survive. The choice faced by a thirteen- or fourteen-year-old in the mid 1970s in China was a very devastating one," Ming recalls. Dr. Wang goes on to explain why the Chinese government deported every child in school to the rural outskirts of the country to work in the fields: "They did that because a dictating government such as Communist-governed China realized that the only way to safely dictate was to wipe out all people with knowledge, with education."
Dr. Wang did what he must in order to remain in the city, studying - he learned to play the er-hu. "I picked up this instrument in the completely wrong frame of mind," Ming explains. "I was not happy in picking it up. It was not a choice I would make. I would rather go to senior high and college. I always wanted to study medicine." But even the er-hu was not enough to keep young Ming from being deported. When the government refused his suspicious efforts, Wang's parents, both doctors themselves, smuggled their son into medical school at age 15. Shortly after being discovered and kicked out of school again, Ming met and began collaborating with a revolutionary poet. This fellow youth encouraged Wang to learn musical composition, and in 1976, when the proletarian leader died and China reopened its universities, Ming's poet friend encouraged him to stick with his instrument, arguing that Ming possessed an innate love for music.
After spending three years at Chinese University of Science and Technology, Dr. Wang came to the US with only $50 in his pocket. That was 1982.
Today Dr. Ming Wang is a Harvard and MIT graduate (Magna Cum Laude) and is one of the few LASIK surgeons in the world with a doctorate degree in laser physics. Dr. Wang has performed over 55,000 LASIK procedures (including procedures on 4,000 doctors) and was selected as the LASIK surgeon of choice by ABC's national hit show, Extreme Makeover. A researcher with a publication in the world renowned journal, Nature, and a US patent holder for his invention of a new biotechnology to restore sight, Dr. Wang performed the world's first femtosecond laser artificial corneal implantation and the world's first femtosecond laser Intacs on a keratoconus graft.
Giving Back
In 2003, Dr. Wang founded the non-profit Wang Foundation for Sight Restoration. Today, it has helped patients from over 40 states in the US and from over 55 countries worldwide, who have been diagnosed as irreversibly corneal blind and have come to the foundation for novel sight restoration surgeries performed by Dr. Wang free of charge.
"In medicine, you have this gap," Ming explains. "In every field of medicine today, the high cost of the latest, most complex surgery and the low affordability of the sickest patients for whom these most advanced surgeries are meant. There is no easy solution, but I feel like part of the effort is going to come from grassroots, people like you and me."
The Wang Foundation for Sight Restoration's main event is called EyeBall, an annual black-tie charity gala to benefit the foundation's patients.
"A human being walking through life without sight is missing a huge part of the human experience," Dr. Wang elaborates on his inspiration for the EyeBall. "I thought, 'How can I bring this sight restoration effort out of the clinic, out of the four walls of a hospital, into society to engage people from different walks and different professions?'"
"EyeBall is truly a union of the expansive meaning of art and charity giving and medical miracles," Ming declares. "It's a merging of music and medicine." This past year's EyeBall took place on October 3, 2009 at the Gaylord Opryland Hotel and boasted more than 600 black-tie clad guests in attendance to see Ming perform and to celebrate the foundation's generosity.
"Music and art have the ability to evoke inspiration, evoke appreciation for our senses - in this case, sight. We are building and expanding the influence of music," Dr. Wang finishes.
In addition to the EyeBall, Dr. Wang is part of a musical group called Music for Sight to raise public awareness of the Wang Foundation's efforts.
Dr. Ming Wang is an inspiration to his patients, his peers, and his community alike. In Ming's words, "God has a purpose in life for each of us. It may not be obvious to us what that purpose is at certain times. However, we do have to have faith and believe that He does have a purpose for us, because He does. We need to work hard, to the best of our capability, so that we will have the opportunity and joy of eventually knowing what God has in store for us." We can all take a page from Dr. Wang's book, tirelessly working to make others' lives better and to help all see the world a little more clearly.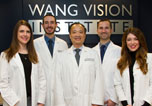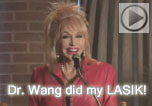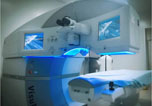 Our textbooks
A 501c(3) charity that has helped patients from over 40 states in the US and 55 countries, with all sight restoration surgeries performed free-of-charge.