Anna Post, a 6-yo patient, became the world's first patient to have a rare MMP gene mutation with corneal opacities and underwent a new laser eye procedure
Wang Vision 3D Cataract and LASIK Center, Nashville, Tennessee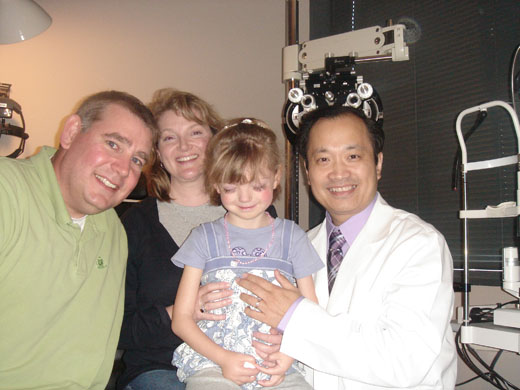 Anna Post, a 6-year-old girl who suffered from a rare genetic MMP gene mutation disease has had a very difficult life in her short 6 years. She was born with a condition which severely deformed her hands and feet. To further exacerbate her condition, white, cloudy opacities formed over both of her eyes, which made it impossible for Anna to see. Anna's parents, Lisa and Jeff, sought help from many major medical centers--including Mayo Clinic and Washington University--and were told that there is no treatment to restore Anna's sight. Furthermore, due to Anna's young age, if her sight was not restored within a certain period of time, her visual cortex brain development would cease and she would never be able to see!
Desperate, Lisa and Jeff sought the assistance and recommendations of many doctors and medical centers, and finally they were led to contact Wang Foundation for Sight Restoration. Dr. Wang has been at the forefront of research and development of innovative corneal surgeries and holds several US patents for inventions of new biotechnologies to restore sight. After a careful examination of Anna's eyes, Dr. Wang concluded that a new laser procedure could possibly restore Anna's sight. With the help of a fellow board member of Wang Foundation for Sight Restoration, Dr. Dave Snodgrass, who helped sedate Anna, Dr. Wang successfully performed the laser eye procedure which removed the opacities blocking Anna's sight line.
Hence, Anna Post became the world's first patient with this rare MMP gene mutation and corneal opacities to undergo this type of laser eye procedure. Doctors at Mayo Clinic and Washington University are planning to write a scientific paper with Dr. Wang about this rare case. For the first time, Anna is able to see and can now walk around the house without falling or bumping into things; and for the first time, Lisa and Jeff were able see the beautiful eyes and pupils of their beloved daughter, Anna!
If you are interested in learning more about this laser eye procedure, please call us (615)321-8881 or email us.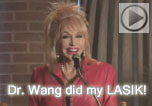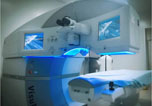 Our textbooks
A 501c(3) charity that has helped patients from over 40 states in the US and 55 countries, with all sight restoration surgeries performed free-of-charge.