The first new generation intraocular lens in TN for cataract surgery was successfully implanted
Wang Vision 3D Cataract and LASIK Center, Nashville, Tennessee
(Nashville, TN, April 21, 2010) On April 20, 2010, the first two cataract surgeries in the state with a new generation intraocular lens were successfully implanted by Ming Wang, MD, PhD, clinical associate professor of ophthalmology for the University of Tennessee and director of Wang Vision Cataract and LASIK Center, Nashville, TN. These first cataract surgeries utilizing this innovative lens have put Nashville on the national map as one of the first centers in the United States to implant the lens after its recent FDA approval.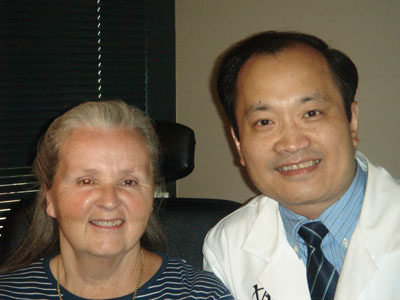 Joyce Ryan and Dr Ming Wang
"We are excited to be the first center in Tennessee and one of the first in the country to implant this new lens after the FDA approval of such a breakthrough in technology," said Dr. Wang, MD (magna cum laude, Harvard & MIT), PhD (laser physics). He has introduced many new cataract and LASIK surgery technologies to the state in recent years, including the state-of-the-art bladeless (all-laser) LASIK procedure, and is currently the only surgeon in the state who uses this technology for 100% of his LASIK procedures.
Wilda Bell and Dr Ming Wang
"The new intraocular lens for cataract surgery is called the Tecnis 1-piece aspheric multifocal IOL, with advanced image quality designed to provide pupil-independent, sharper, spectacle-free vision across a broad range of distances and lighting conditions. In short, that means ALL distances, all lighting conditions, all in 1-piece!" Dr. Wang explained. "The results of the FDA clinical trials for this revolutionary new technology are amazing! The majority of these patients have been able to achieve an excellent level of vision post-operatively, and they are now free of their dependence on any optical correction!"
In a cataract surgery, a surgeon removes a patient's natural, cloudy lens, and replaces it with an intraocular lens. In recent years, new lens technologies have been introduced which have given patients an unprecedented range of vision. The Tecnis 1-piece aspheric multifocal IOL represents the newest development in premium lens technology.
Joyce Ryan from Whites Creek, TN, suffered from cataracts and progressive vision loss for years. "Lights ran together so when cars came toward me, I only saw one long blur of lights," Ms. Ryan said. She had to give up driving at night or in the rain due to her poor vision. Her husband, Don, has also had successful cataract surgery by Dr. Wang, so he referred his wife to Dr. Wang for her own surgery. "I am so excited to be the very first patient in our state to have this advanced new eye surgery, and to know that my new and youthful sight will last for the rest of my life!" Ms. Ryan beamed on her first post-operative check-up with Dr. Wang, and added, "I have reading glasses sitting around all throughout my house, and now I no longer need them!"
Wilda Bell from Waverly, TN, is a 71-year-old who first found out about Dr. Wang when her husband had LASIK with him several years ago. "LASIK has greatly helped my husband, who has multiple medical problems, yet now he can see so much better. We are so grateful to Dr. Wang, and that is why I came to him for my own eye surgery as well." Ms. Bell explained the problems she was having before her cataract surgery. "I had fallen three times because the cataracts had caused me to lose my depth perception, and I was scared to drive at night."
Ms. Bell was Dr. Wang's second patient to receive this new intraocular lens implant for her cataract surgery, and on her first post-operative visit, she was 20/20 for both distance and near without any glasses! "My life has totally changed already! I can see so much now, the whole big, wide world, and I feel like I am 30 years younger!" Ms. Bell exclaimed.
For information about 'FOREVER YOUNG™ lens surgery' cataract surgery: Ming Wang, MD, PhD, drwang@wangvisioninstitute.com, www.WangCataractLASIK.com, Wang Vision 3D Cataract and LASIK Center, 1801 West End Ave, Ste 1150, Nashville, TN, 37203, 615-321-8881(O), 615-321-8874(fax).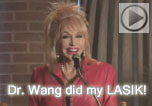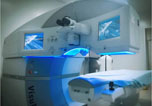 Our textbooks
A 501c(3) charity that has helped patients from over 40 states in the US and 55 countries, with all sight restoration surgeries performed free-of-charge.