Blind Georgia Youth Gets Charity Sight Restoration Surgery
Wang Vision 3D Cataract and LASIK Center, Nashville, Tennessee
Nashville, TN (PRWeb) November 29, 2006 -- Winson Chen, a 24-year-old young man from Macon, GA, was in a coma in ICU for 30 days, after a severe MVA at Atlanta and 4th degree thermal burn. He narrowed escaped death and survived, but was blinded in his left eye. After three corneal transplantation surgeries at Emory University in Atlanta which failed, Winson was told that he would never be able to see out of that eye.

Now, after a complex eye reconstructive and sight restoration surgery by Dr. Ming Wang, M.D., Ph.D., at Nashville's Saint Thomas Hospital on Nov. 1, 2006, Winson's sight has been restored.

"Winson is such an amazingly remarkable young man," said Dr. Wang, who is a clinical associate professor of ophthalmology of University of Tennessee, Attending Surgeon at Saint Thomas Hospital and Director of Wang Vision 3D Cataract and LASIK Center. "His determination to survive and to see is an inspiration to us all," Wang added.

Winson was referred by friends and doctors at Atlanta, GA, to Dr. Wang and the Wang Foundation for Sight Restoration in July 2006. After careful examination, Dr. Wang concluded that he might be able to help Winson recover his vision, through the use of novel sight restoration surgeries developed at the vision institute.

However, the complex eye reconstructive surgery carries prohibitive cost, and Winson's family did not have the resources to afford the surgery. The family was very worried and did not know where to turn.

Dr. Wang decided to perform the entire reconstructive surgery for Winson free of charge.

On November 1, 2006, at the operating room of Saint Thomas Hosptial, Dr. Wang performed the complex rconstructive surgery for Winson. In order to reconstruct Winson's left eye, Dr. Wang had to remove the entire anterior segment of Winson's eye, including the severely scarred and conjunctivalized surface. After excising all scar tissues and removed all corneal-iris adhesions, Dr. Wang performed a patch graft surgery which anchored a new anterior segment onto the severely damaged left eye.

The surgery was a success. On the postoperative day #1, Winson' vision improved significantly. He went from barely light perception, to count fingers, and he was elated.

So were Winson's parents, Dr. Wang and staff at the Wang Vision 3D Cataract and LASIK Center.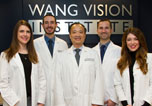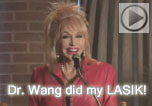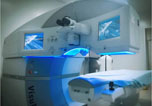 Our textbooks
A 501c(3) charity that has helped patients from over 40 states in the US and 55 countries, with all sight restoration surgeries performed free-of-charge.