AlphaCor FAQs
Wang Vision 3D Cataract and LASIK Center, Nashville, Tennessee
To see a video story of Brad Barnes, the world's first patient to undergo a combined saliva gland and laser artificial cornea (alphacor) implantation, and has his sight restored after 13 years and saw his wife for the very first time, click here
To read about the miraculous day-to-day account of Brad coming out of darkness to light, after 13 years of blindness, click here.
What is the cornea?
The cornea is the clear window at the front of the eye. The cornea protects the eye and is responsible for focusing your vision.
Why might the cornea need to be replaced?
The cornea may need to be replaced if disease, scarring or inflammation damage it. Clear vision requires a clear window, and if the cornea becomes cloudy or opaque, vision may be severely effected.
What is the AlphaCor artificial cornea?
AlphaCor is a small, flexible plastic disc designed to replace a scarred or diseased cornea. The central part of AlphaCor is clear, just like the natural cornea. The rim, or skirt, of AlphaCor resembles a sponge and acts to secure the device into place by allowing the patient's own tissue to grow into it and hold it in place.
What does the AlphaCor procedure involve?
The surgery itself is similar to the implantation of a donor cornea. Part of the cornea is removed and the AlphaCor is put in its place. A pocket is made within the plane of the scarred cornea and this is where the AlphaCor is implanted. In many cases, the operation is completed by the formation of a flap of tissue from the conjunctiva (the outer layer of the "white" of the eye), which is used to cover the surface of the front of the eye. This means that the eye does not look normal after the operation, but it is important because it allows the artificial cornea to heal in place under the protection of this natural bandage. After three months, the flap of tissue and a thin layer of cornea are removed, exposing the AlphaCor and allowing light to enter the eye.
How long do AlphaCor implants last?
The life of AlphaCor implants depends on the individual's own body.
If you're interested in AlphaCor, choose experience and technology. Choose Wang Vision 3D Cataract and LASIK Center of Nashville, Tennessee. Call or email us today.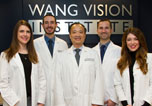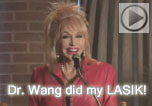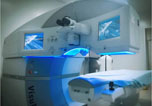 Our textbooks
A 501c(3) charity that has helped patients from over 40 states in the US and 55 countries, with all sight restoration surgeries performed free-of-charge.