Laser Eye Surgeon
Wang Vision 3D Cataract and LASIK Center, Nashville, Tennessee
Crossville man's artificial cornea surgery promising
By Sameh Fahmy, Staff writer
Tennesean, Tuesday, 03/30/04

Bobby Joel Case of Crossville, Tennessee, has a chance at regaining vision thanks to an innovative use of technology that his doctor said is an international first.
Case is legally blind because of a rubella infection in the womb that scarred his cornea, the outer lens of the eye that helps focus light.
A new artificial cornea called the AlphaCor offered him a chance at becoming the first in the state to use it to gain sight restoration last week.
But as the surgery was about to begin his surgeon, Dr. Ming Wang, discovered that Case's cornea was so unusually thin and deformed that using a blade to create a pocket necessary to insert the artificial cornea risked permanently damaging his eye. So Wang decided to use a laser normally used in laser-vision correction to create the pocket.
The pocket was created yesterday morning at the Wang Vision 3D Cataract and LASIK Center, and the artificial cornea was successfully implanted in the afternoon at Saint Thomas Hospital.
Wang plans to submit his results to a medical journal and said that his technique makes the implant available to an even larger group of people with vision loss because of severely damaged corneas and might change how the surgery is performed.
''Now with this laser creating this pocket, all of the sudden we've introduced a new way,'' he said, ''a safer and more precise way.''
Yesterday as Wang lifted the flap he created out Case's cornea, Case could see light, which suggests that he has a good chance of regaining sight when the implant heals in three months, said Case's fiancée, Beth Ann Dahl.
''It's wonderful,'' she said, while crying ecstatically.
Click here to learn more about artificial cornea surgery. If you are interested in artificial cornea surgery, please contact us by calling (615)321-8881 or email us.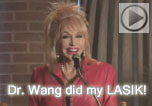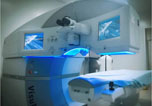 Our textbooks
A 501c(3) charity that has helped patients from over 40 states in the US and 55 countries, with all sight restoration surgeries performed free-of-charge.