LASIK Surgeon
Wang Vision 3D Cataract and LASIK Center, Nashville, Tennessee
Healing power of the womb could help blind man see
By Jack Hurst,
Staff Writer

Wade Cook will head to Saint Thomas Hospital tomorrow to begin trying to gain sight after lifelong blindness - in a procedure almost postponed while hospital executives reconsidered it.
Tomorrow, on his 30th birthday, the Raleigh, N.C., computer software developer will have his eyes covered with amniotic membrane, the substance surrounding babies in the uterus before birth, to try to erase growths and scars from a disease called aniridia.
The procedure will try to fool Cook's eyes into believing they have returned to the womb, where injuries heal without scarring. It will be the first phase of a two-part attempt to correct Cook's disease, a congenital absence or deficiency of the iris (the colored part of the eye) that has made him legally blind.
Getting to this point hasn't been easy.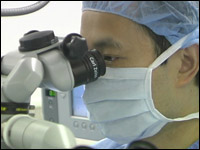 Late last week Saint Thomas put the procedure by local surgeon Dr. Ming Wang on hold because the procedure was described as ''experimental'' in an initial press release from a Nashville public relations firm.
''This procedure was first brought to our attention as experimental,'' said a statement released late yesterday by Saint Thomas public relations director Paul Lindsley. ''We delayed making a decision because there are protocols required to perform experimental operations. After researching the procedure and hospital policies, we determined it is not experimental and is in compliance with hospital and governmental policies.''
Wang described the problem as arising from a ''technicality issue'' that emerged because the procedure is a ''new type of surgery'' that is ''loosely'' referred to as ''experimental.''
''But Saint Thomas Hospital told me that the surgery will go on as originally planned if we can make sure (it) is described as novel surgery,'' he said.
The procedures involved for Cook will cost about $50,000, even though the surgeon's fee is being waived, Wang said. Insurance won't cover the cost, so the North Carolina family has spent a year saving money, Cook said by telephone from his home last week.
He added that his wife, Christine, a college accounting student, has ''put away as much as she could'' although the result is ''just a drop in the bucket.'' The family is hoping that the scrimping will be worth it.
''I'm having to calm my kids down,'' Cook said. ''They're (saying), 'You're gonna drive, you're gonna drive!' Driving has been a dream of mine, but I have to tell them, 'That may happen and it may not, so don't get your hopes up.'
''But that's part of why I want to do this. I want to do things with them that I can't do right now. I've tried to play ball with them, and I can't. They have to roll it to me on the ground.''
Optimum normal vision is 20/20. Cook, a Louisiana native whose father also had aniridia, was born with 20/200 vision. It has degenerated to 20/400.
The amniotic tissue transplant this week is the first of its kind at Saint Thomas and uncommon anywhere. It will be followed in a few months by a second transplant, that one of corneal stem cells.
Wang acknowledged that there was discussion of the use of stem cells with executives at the Catholic Church-affiliated hospital, to which he recently moved after five years of operating at Vanderbilt University Medical Center.
''That does not seem to be a problem, because these are not embryonic stem cells,'' Wang said. ''So they're not from an unborn child. These are from adults - cadaver donors, people who died.''
The amniotic membrane comes from mothers who donate it after a Caesarean section birth.
Wang said that unlike embryonic stem cells, adult ones are ''limited'' in their uses, so that eye stem cells can be used only to form eye tissue.
As a scientist and a Christian, Wang said, he wants to do research but does ''not want to do anything that is not right.''
He described the amniotic membrane transplant as ''tapping into the fountain of youth.''
A colleague characterized the total process that Cook will undergo as very significant.
''This is really bringing science fiction to life,'' said Dr. Ivan Schwab of the University of California at Davis and the American Academy of Ophthalmology. ''This is an early step to being able to create a laboratory-grown, healthy (eye) surface to transplant to patients who have damaged (eye) surfaces.
''And this can be extended to other 'wet,' or mucous, membranes. These might include the sinus, the mouth, or even the lungs or stomach or bowel. It may help us learn how to create bioengineered tissues for other parts of the body.''
Schwab said this kind of surgery has been done since the mid-1990s on a very limited basis.
He said the evidence is ''good'' that it helps people considerably and put its general odds of success at 50% to 60%.
Wang cited odds of 60% to 70%, while Cook said 70%.
Schwab said he knew Wang and described him as a surgeon with an ''excellent reputation nationally.''
Cook said tomorrow's transplant will be on his right eye. Wang said both eyes will receive the treatment but that the usual practice is to begin with the ''worst eye first.''
Cook said he heard of Wang from a specialist at Duke University, who was unable to help but suggested the Nashville doctor.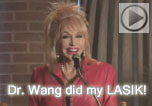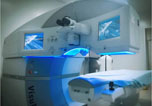 Our textbooks
A 501c(3) charity that has helped patients from over 40 states in the US and 55 countries, with all sight restoration surgeries performed free-of-charge.