LASIK Vision Correction
Wang Vision 3D Cataract and LASIK Center, Nashville, Tennessee
Wang pioneers efforts regarding post- LASIK vision correction surgery
By Paige Orr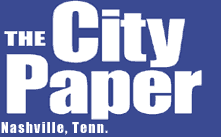 An estimated 80,000 people have experienced complications or visual problems from laser-eye surgery, but a recently approved treatment can give them hope for improvement.
Dr. Ming Wang, director of the Wang Vision 3D Cataract and LASIK Center in Nashville, hopes to help patients who need restorative corrections - about 1 percent of total LASIK patients - with a procedure he used Thursday for the first time.
With the treatment, called Custom-CAP, a doctor can correct LASIK surgery that was not centered properly on the patient's eye. Patients with "decentered LASIK" may have blurred vision, double vision or see a halo of light around objects.
Wang's use of Custom-CAP Thursday was the first procedure of its kind in the state and among the first 20 in the country, he said.
The patient, James Collier, a human resources manager at Vicwest, Friday said his vision is a little better, but he won't know how much of an improvement was made until the swelling subsides.
Collier had experienced severe blurred vision and pain from a hard contact he wore to correct his vision. His discomfort lasted almost two years since his LASIK surgery, which was not performed by Wang.
"My eyes weren't that bad," Collier said, referring to his vision prior to the original surgery. But his experience with the procedure turned out to be a disaster, he said.
"For me at least, [the original LASIK procedure] just wasn't worth it. I've gone through really a terrible time. It's been a nightmare," Collier said.
Wang hopes to end the nightmare for patients like Collier with Custom-CAP, which has limited FDA approval. Certain doctors can begin to treat patients under the supervision of the Institutional Review Board.
Wang also has technology to immobilize the eye as a preventive measure against decentered LASIK in his own patients. He boasts a 99.8 percent success rate - defined as LASIK patients whose vision improves to 20/40 or better.
Wang left the Laser Vision Center at Vanderbilt University Medical Center to start his own Vision Institute in May. He typically sees about 3 patients daily with LASIK complications, he said.
But he only plans to perform the corrective treatment once a week, versus the 40-50 LASIK procedures he does weekly. That plan makes financial sense because the Custom-CAP treatment takes about 20 times the amount of time Wang spends on a typical LASIK surgery.
In addition to Wang's time, the treatment requires special corneal typography, software for the pre-surgical simulation, and hardware - the laser has to be configured to link to the typography.
According to Wang, the availability of Custom-CAP should increase consumer confidence and reduce some of the fear associated with laser vision surgery.
To learn more about the C-Cap treatment for decentered LASIK/PRK ablation at Wang Cataract and LASIK center, Nashville, TN, click here...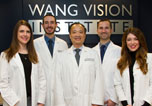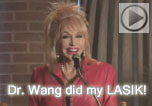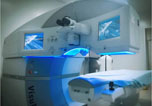 Our textbooks
A 501c(3) charity that has helped patients from over 40 states in the US and 55 countries, with all sight restoration surgeries performed free-of-charge.