Eye Doctor Performing Corneal Implant Surgery
Wang Vision 3D Cataract and LASIK Center, Nashville, Tennessee
Artificial cornea surgery holds promise for groom to see before wedding day
Tennesean, Friday, March 26, 2004
In six months, Bobby Joel Case of Crossville, Tennessee, plans to marry his sweetheart, Beth Ann Dahl. In three months, he hopes to see her for the first time.
Case has been legally blind for all of his 42 years but today is to receive an artificial cornea implant.
He will be the first patient in Tennessee and one of slightly more than 50 nationwide to receive this kind of implant, said the maker of the implant and his doctor. If all goes well, he'll be able to see just in time for his wedding.
''I try to remain calm,'' Case said, sitting next to his smiling fiancee. ''But with the possibility of what could happen (sight restoration), it's hard to do that.''
Case has had five major surgeries, including attempts at a corneal transplant with donated tissue. Each attempt failed because his body's immune system rejected the tissue.
Dr Ming Wang, Case's ophthalmologist of seven years and director of the Wang Vision 3D Cataract and LASIK Center, said that after each failed attempt he would reassure Case that a better alternative was coming. That better alternative has arrived, Wang said, and it doesn't carry the risk of rejection that donor tissue does.
''This is ushering in a new area of artificial organ transplants,'' said Wang, who will perform the surgery today at Saint Thomas Hospital.
The cornea is the clear, outermost layer of the eye that focuses light onto the lens. When the cornea is badly scratched or injured, vision is compromised. Look through a sheet of wax paper and you'll get a sense of what Case's sight is like. He can make out colors, shapes and contrast, but there's no definition.
The artificial cornea, called the AlphaCor and manufactured by Argus Biomedical of Perth, Australia, is clear, soft and flexible as is a soft contact lens, but smaller.
Doctors insert it into a pouch they create in the eye. During a second surgery three months later, doctors remove the outer portion of the pouch to allow light to enter and restore sight.
The device costs about $7,000 ,and is covered by Medicare and by most insurers, with proper documentation, said Beth Spearman, account manager for Argus Biomedical.
It's available only for people who have had failed corneal transplants using donor tissue and those with damage too severe for them to be candidates for the traditional transplant. But Wang said he expects it to become the standard of care.
''As the technology becomes more mature, we'll have higher success rates and I anticipate this technology will be significantly broadened, meaning its market expanded a hundredfold to patients who need regular cornea transplants, particularly outside of the United States'' where donor tissue is less readily available, he said.
For his honeymoon, Case is planning to literally see the places that he had only heard about heard about before. What he wants most to see, of course, is the face that until now has been a blur.
''Hopefully, I'll be able to see her beautiful face before our wedding,'' he said.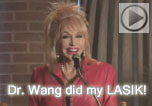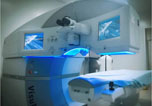 Our textbooks
A 501c(3) charity that has helped patients from over 40 states in the US and 55 countries, with all sight restoration surgeries performed free-of-charge.