Wang Instrumental in Developing New Amniotic Membrane Contact Lens

Nashville Medical News, July, 2012
Ming Wang, MD, PhD, clinical associate professor of ophthalmology for the University of Tennessee and director of Wang Vision 3D Cataract & LASIK Center, recently announced a new generation of contact lenses using principals he began researching 16 years ago are now available for those with corneal ulcers and injury.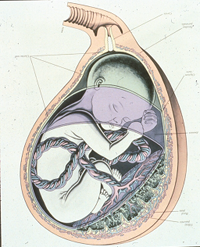 Figure 1: A diagram illustrating a fetus surrounded by amniotic sac.
The journey began in 1996 when Wang, a student in Boston and later a fellow at Bascom Palmer Eye Institute, demonstrated amniotic membrane transplantation reduced corneal scarring by inhibiting keratocyte programmed cell death. Late last year, amniotic membrane contact lenses (AMCL), which were developed based on Wang's research and U.S. patents, became available commercially in the United States.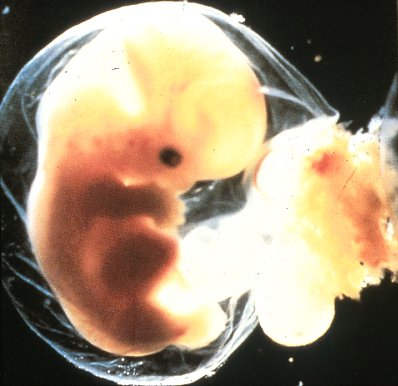 Figure 2: An embryo in amniotic sac.
Recognizing a fetus could heal without scarring, Wang and his team were frustrated by trying to discern how to study the process without harming the fetus. He noted that it was about this time that physicians were beginning to realize the amniotic membrane might contain the ingredients necessary for healing without scarring. Using donated amniotic sacs, typically discarded after birth, the research team transplanted the membrane onto injured adult eyes to create a protective, fetus-like environment.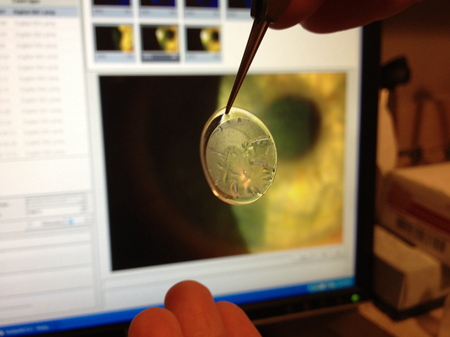 Figure 3: The world's first amniotic membrane contact lens.
"When the membranes were removed, instead of seeing scarred and blind eyes, we saw clear corneas with vision," said Wang. A number of scientific papers followed, and Wang said focus turned to improving the delivery system for the amniotic membrane.
Figure 4: Ms. Sandra Perkin's cornea, with persistent non-healing corneal ulcer, which failed all conventional therapies.
"Instead of transplantation and suturing, we made it into a contact lens, an amniotic membrane contact lens. Our goal is to make this medical treatment available in emergency rooms and hospitals throughout the world so that when a patient comes in who is suffering from an eye surface injury, a doctor or nurse can immediately treat the eye with an amniotic membrane contact lens during the critical initial period of post-trauma wound-healing and subsequently reduce scarring and restore the patient's sight," he explained. Ultimately, EyeVU was formed in conjunction with Vanderbilt to manufacture the prototype lens, which was later licensed to IOP, Inc.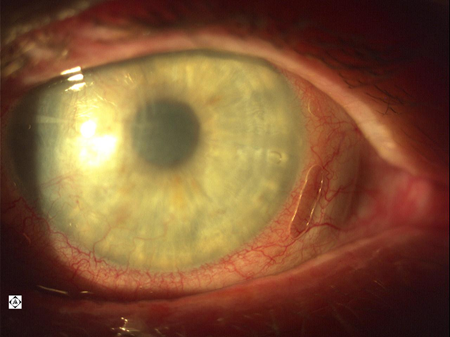 Figure 5. Ms. Perkin's cornea, with amniotic membrane contact lens, which healed the ulcer in 2 weeks.
Wang demonstrated the efficacy of the new lens last month on Sandra Perkins, a 62-year-old patient with a long-standing history of herpetic eye infections. Perkins also had a persistent non-healing corneal ulcer for 7 months, causing her to have pain and progressively deteriorating vision. Wang said all conventional treatments had failed to heal the ulcer and noted Perkins was on the brink of losing her sight completely in the eye. She became one of the first patients to receive the new AMCL treatment. After two weeks with the lens, her corneal ulcer was healed.
Figure 6: A happy Ms. Sandra Perkins, after amniotic membrane contact lens healed her corneal ulcer, and Dr. Ming Wang, the inventor of amniotic membrane contact lens.
"I no longer have any pain and tearing, and the best part of it is I can see now," exclaimed Perkins. "I am an obstetrics and gynecology nurse so the concept of this breakthrough amniotic membrane technology really hit home in my heart," she added.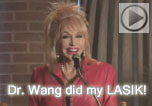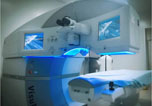 Our textbooks
A 501c(3) charity that has helped patients from over 40 states in the US and 55 countries, with all sight restoration surgeries performed free-of-charge.