Lasers let cataract set ditch glasses, too
Written by Tom Wilemon | The Tennessean, Dec. 24, 2011

Shirley Breece of Goodlettsville didn't want to bother with eyeglasses when she was younger and still doesn't want to go through life bespectacled.
She tossed her glasses away years ago after undergoing Lasik surgery, but she had to get another pair because of cataracts in her 50s. Now, she has ditched the glasses again.
Breece, 58, became the second person in Tennessee to undergo a new technology that is changing ophthalmology. The U.S. Food and Drug Administration has approved the first laser that can be used in every step of cataract surgery, the LenSx. Its more precise cuts and imaging power give ophthalmologists a better opportunity to fix refractions in aging eyes while removing cataracts and putting in new lens implants.
Laser cataract surgery is not the next best thing since Lasik — it's going to be bigger. That's the expectation of eye surgeons who have bought the expensive devices and are heavily marketing them.
"I believe the impact of this blade-to-laser transition will have an even bigger impact on the lives of millions, maybe because the population is getting older," said Dr. Ming Wang of Nashville. "If you look at annual surgical volumes, the Lasik surgery is about 600,000 to 700,000 in the United States. Cataract surgery is about 3.2 million or 3.3 million."
And that number will increase as the waves of aging baby boomers grow larger. A cataract occurs when the lens of the eye becomes cloudy. More than half of Americans have a cataract by age 80.
Insurance covers cataract surgery
Another thing ophthalmologists are counting on is the fact that cataract surgery is covered by insurance, unlike Lasik, which is an elective surgery. Check with your specific insurance carrier to see whether it covers LASIK, and/or whether there are discounts available through your plan.

Dr. Ming Wang aligns the LenSx laser to remove a cataract from Jaquetta Ashby's eye. / GEORGE WALKER IV / THE TENNESSEAN
But Medicare and other insurances won't pay anything additional for the laser surgery, so ophthalmologists are targeting the "premium channel" — a marketing term identifying people who can afford to cover the cost of extra eye work to correct other vision issues, such as astigmatism, while the cataract surgery is performed. The additional costs can be several hundred dollars and up, depending upon the type of treatment needed.
By agreeing to be an early adopter, Breece got her extra work done free.
"I needed the cataract surgery because I was having difficulty, particularly at night — all of the time — but the worst part was night, especially when it was raining," she said. "I was seeing halos and star-burst effects of car headlights."
She had surgery in one eye on Dec. 1 and the other on Dec. 6. Now, she uses eyeglasses only to see fine print. However, there's no guarantee that someone who has the extra work done while undergoing cataract surgery will be free of glasses.
Dr. Mark Packer, an ophthalmologist from Oregon who has done safety research on cataract laser devices, advises patients to ask pointed questions.
"How many of your patients don't wear glasses?" Packer said. "This is what I am paying for. The outcome I want is freedom from glasses. How often can you achieve that? What percent of the time?"
Few eye surgeons are going to have a long track record because the technology is so new. Wang notes in his advertising that he's the first ophthalmologist in the state to have a LenSx. The lasers cost around a half-million dollars. Surgeons also typically have to pay user and maintenance fees.
But good outcomes are not exclusively related to the device.
"Today, some of the determinants of whether you get the best outcome are not whether or not a laser is being used," Packer said. "A lot of it has to do with the preoperative measurement, how those are made. There is still a huge portion that has to do with the skill of the surgeon."
Another good question for cataract patients to ask is how many types or brands of lens implants the surgeon offers.
"That makes a huge difference — a bigger difference in whether or not a laser was used," he said.
Companies caught in technology race
The LenSx was the first FDA-approved laser for cataract surgery. Alcon, one of the three big ophthalmology suppliers, manufactures and sells it. The other two, Bausch & Lomb and Abbott Medical Optics, will likely challenge Alcon for this market, Packer said. But smaller companies are developing the technologies in a race to sell out to the big players.
The study presented by Packer in October at the annual meeting of the American Academy of Ophthalmology showed that the cells inside the cornea that keep it clear suffer less damage with laser surgery than with traditional surgery. His study showed the procedure is safer, he said, while admitting that's not the primary selling point.
Said Packer: "To keep it real simple, the point is to not have to wear glasses after cataract surgery."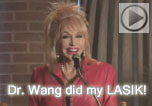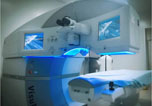 Our textbooks
A 501c(3) charity that has helped patients from over 40 states in the US and 55 countries, with all sight restoration surgeries performed free-of-charge.