All eyes on Dr. Ming Wang and his eclectic interests
Dance to benefit blind patients
By RYAN UNDERWOOD, Staff Writer
Published: Saturday, 10/07/06
Wang Cataract & LASIK Center in Nashville, Tennessee
In addition to perfect MCAT scores, a medical degree from Harvard and a thriving eye surgery practice that counts some of Nashville's most renowned residents among its patients, Dr. Ming Wang may have another, slightly less prestigious, honorific to add to his resume.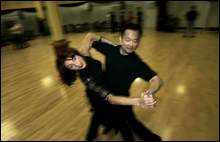 Through his somewhat jarring local television ads, which feature him and a partner dancing in formal attire, Wang seems to have earned a place alongside the city's other well-known advertising personalities, such as the Watson's Girl and Toyota pitchman Dan Walters.
In case you haven't seen them, the television spots consist of 30 uninterrupted seconds of Wang and his partner swirling elegantly across a ballroom floor. No words. No sales pitch. Just dancing, a thick spoonful of classical music and a logo for the Wang Vision 3D Cataract and LASIK Center that appears at the end of the ad.
Love it or hate it, the marketing piece offers a tantalizing glimpse into an eclectic personality that, if nothing else, has splashed some color into a city not always known for its daring ways.
But for Wang — who is much more relaxed and personable than he sometimes comes across as being in his advertising — the ballroom-dancing gambit is merely his way of sharing with others an enthusiasm for an activity that he dearly loves.
"Watching somebody dance on screen is not necessarily going to be the most cost-effective way to make somebody pick up the phone for eye surgery," he said, laughing at his own missteps in figuring out the business side of establishing his 4-year-old LASIK surgery practice.
"People say, 'If you are going to do a medical advertisement, do something more expected, with a doctor's white coat and a stethoscope,' " said Wang, a top-ranked competitive ballroom dancer. "But I'd rather do something based on my intuition, based on what I love to do."
It's that same sense of intuition and passion that spurred Wang in 2003 to establish his Foundation for Sight Restoration, a charitable organization dedicated to providing medical care for terminally blind patients.
Fully one-third of Wang's patient load comes through the foundation and pays no medical fees. These patients are from 55 countries and include people like Missouri resident Brad Barnes, who was blinded after 1,500-degree molten aluminum seared off his corneas in an industrial explosion when he was 21 years old.
Tonight, the foundation hosts its second annual Eye Ball event, a black-tie dancing gala at the Country Music Hall of Fame and Museum, to raise funds for needy patients such as Barnes undergoing complex sight-restoration surgeries.
Like the TV ads, an evening of formal ballroom dancing (with beginner lessons from professional instructors thrown into the mix), may not quite fit the mold of a typical Nashville society event like the Swan Ball or a similar affair.
"But the fact that he does things differently is what I think makes him such an interesting person," said Nashville uber-Realtor Shirley Zeitlin, a former patient of Wang's and now a board member of his Foundation for Sight Restoration. "He's not just a one-sided person. He's very well-balanced."
Political dropout
Indeed, conventional wisdom has never served Wang very well.
Growing up as the oldest son of a medical professor in the eastern Chinese city of Hangzhou, just south of Shanghai, Wang dropped out of school at age 13 to escape deportation to a remote part of China in the ten-year catastrophe, which targeted educated families.
Wang spent years pursuing various artistic endeavors as a way to keep off the government's radar. Then in 1976 the country's closed universities were once again opened to students who scored in the top 2 percent or 3 percent of the national college entrance exams.
Wang's father recognized that this could be a once-in-a-lifetime opportunity for his son, fearing that the Communist regime would reinstate parts of Mao's policies. So, even though he had not attended school in three years and was still two years away from when he was supposed to graduate, Wang's father pressed him to take the college entrance exam.
With an army of tutors — patients of Wang's father whom he recruited to help his son — he crammed an entire high school education into about two months, sleeping only one or two hours per night. But the scheme paid off, and Wang won admission to the prestigious University of Science and Technology of China, the country's equivalent of M.I.T.
"At first, what motivated me to keep going was just being an obedient son and doing everything my father and mother wanted me to do," recalled Wang, who is now 45. "But along the way, I saw I could avoid the fate that fell upon other people I knew — a lifetime of misery, condemned to a remote part of the country."
It wasn't until college that Wang's interest in the West began to grow. During his junior year, a professor at the University of Maryland offered Wang a chance to continue his study of laser spectroscopy in the United States.
"I had $50 in my pocket. I had minimal English skills. And didn't know anybody in this country," he said. "I was dropped off at Washington's National Airport, and that was it."
LASIK pioneer
That was 24 years ago. Since he arrived in this country, Wang has earned a Ph.D. in laser physics, scored a perfect set of 15s on his MCAT to gain admission to Harvard Medical School, and in 1997 came to Vanderbilt University to head up its Laser Eye Center before going into private practice four years ago.
Demand for LASIK eye surgery exploded in the United States after the U.S. Food and Drug Administration approved the procedure in 1999. Wang served on the agency's review panel. The surgery isn't normally covered by insurance. Wang said he has performed about 55,000 LASIK operations.
Along the way, Wang has woven his artistic pursuits into the fabric of his professional existence. In addition to practicing ballroom dancing four nights a week, he plays an instrument called the erhu, a kind of upright Chinese violin. In fact, he played the instrument on a recent Dolly Parton CD after she got to know him as an eye surgery patient.
Beyond his multiple professional and artistic interests, Wang serves as the medical director for a chain of 30 private eye surgery centers that have opened in China (based, he said, on a for-profit business model similar to Nashville-based health-care company HCA). Wang, who is not married, attends to that work most nights between 10 p.m. and 1 a.m.
"I work all the time. And I think that mainly it has to do with not having the opportunity to do so before," he said. "In the U.S. I can do anything I want. I have unbelievable opportunities. That's especially meaningful for me coming from a situation where none of these opportunities were available." •
Published: Saturday, 10/07/06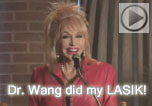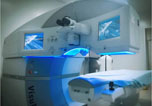 Our textbooks
A 501c(3) charity that has helped patients from over 40 states in the US and 55 countries, with all sight restoration surgeries performed free-of-charge.