The dancing doctor
13 November/December 2010

You've probably heard of Dr. Ming Wang. If you live in Middle Tennessee, chances are, you have seen his exquisite ball room dancing in his television advertisements for the Wang Vision 3D Cataract and LASIK Center. The director of the state-of-the-art laser facility for refractive surgery is a world renowned laser surgeon, scientist, chemist, and inventor as well as a ballroom dancer. His drive to succeed and a talent in the arts were cultivated during his fascinating childhood.
Dr. Wang's journey was a difficult one, to say the least. Wang grew up in the Chinese city of Hangzhou, duringthe ten-year catastrophe (1966-1976). As part of a "re-education," millions of students were sent to peasantry work in remote parts of China. Though a straight-A student, Ming was forced to drop out of school when he was 14, or have no chance of escaping the miserable fate. The dictator was determined to stifle the younger generation (Think to the time of Moses when Pharaoh sought to destroy all male babies in a quest to limit the number of Hebrew men that might one day rise up and rebel). Wang knew that if he had some type of talent that the government could use, he could avoid deportation. Since the government needed musicians, he dedicated his time to practicing the er-hu, the Chinese violin. Even though the government would not allow him to become a musician, he avoided being deported. In a personal testimony given by Dr. Wang at a CEO Fellowship meeting in Brentwood in 2008, he said, "This just shows that when there is no democracy or spiritual guidance for human behavior, humans can sometimes really go crazy…"
The threat of deportation constantly loomed over Ming. Ironically, the boy who would one day perform the first all laser LASIK procedure in China in 2005, began preparing for this future when his parents, both physicians, allowed him to illegally sit through medical classes taught by their colleagues. Because he was not an enrolled student, he was not allowed to take tests or participate in clinicals. He often felt there was no point to his efforts. He questioned his father as to why he should study medicine with no chance of being allowed to become a doctor. Ming remembers his father's wise answer, "knowledge will always be useful."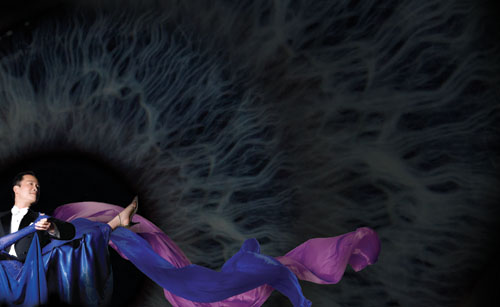 The Chinese leader eventually died and the government once again allowed college entrance exams. Knowing that nothing is certain when there is total government control; Wang's parents did not know if academia would once again be torn from the country's youths. His father instructed him to take the college entrance exam, though he was only in 10th grade and had not attended school for some time. In a communist country, being a physician doesn't equate to wealth. Therefore, his parents had to barter with tutors to pay for their services, providing medical care for life to some of them. The hard work paid off. After many grueling days and nights of studying, Wang passed the entrance exam and eventually was able to attend college.
Wang eventually came to study in the U.S. after a professor visiting the Chinese University, helped him land a teaching assistant position at the University of Maryland. With fierce determination and $50 in his pocket, Wang made the move to a new country. Eventually, he graduated Magna Cum Laude from Harvard University and the Massachusetts Institute of Technology. His first job after his internship was founding director of the Vanderbilt Laser Sight Center at Vanderbilt University School of Medicine. Dr. Wang also received the Young Faculty Award from Vanderbilt University in 1998.
Excelling is something people associate with Dr. Wang. He has performed over 55,000 cataract and LASIK procedures, over 4,000 of which were on doctors! Thanks to Dr. Wang, Patrick O'Rourke, of Nashville, said a procedure which took eleven seconds per eye allows him to enjoy life without the hassle of wearing contact lenses or glasses. "Before the procedure I asked a lot of eye doctors whom they would choose and they said "Ming Wang," he said. The doctor's reputation has also circulated amongst Nashville's country music scene. His patient list includes country mega stars Dolly Parton, Kenny Chesney, Naomi Judd and Charlie Daniels. Dr. Ming is currently one of the only doctors with a Ph.D in laser physics. People have come from around the world to experience the results of his innovative surgeries.
Dr. Wang has made a name for himself as a trailblazer in eye reconstructive surgeries. He performed the world's first laser-assisted artificial cornea implantation. An internationally recognized teacher in LASIK vision correction, he has taught courses in LASIK and has certified surgeons worldwide. Several times a year, Wang travels back to China. Ming met his wife, JJ, an artist, while on a trip to Shanghai.
This scientist doesn't take lightly the common practice of others who discredit God in their scientific studies. Dr. Wang, grew up in communism, but pondered the thought of a Creator, a striking example of Psalm 19, "The heavens declare a Creator." While a Harvard student performing a rotation in Florida, he had a life-changing conversation with a professor/mentor there. Ming had struggled with his own thoughts for some time, but the professor helped him realize the existence of God! Dr. Wang now has the opportunity to share his beliefs in speeches to the public as well as among his peers in the field of science.
Dr. Wang is thankful for his success and has become quite the philanthropist. Having been a member of the Harvard University Ballroom Dance Team, he wanted to incorporate his love for ball room dancing with his profession. He hosts an annual fund-raising event cleverly named, "Eyeball." The black-tie gala is held each October in Nashville. Proceeds
from the event are used to support the Wang Foundation for Sight Restoration, a charitable organization started by Dr. Wang in 2003. The non-profit organization provides sight restoration surgeries, free of charge, to those with financial hardships. The charity has helped patients from 40 states and 55 countries.
"Wang is also the clinical associate professor of ophthalmology for the University of Tennessee as well as an attending surgeon for St. Thomas hospital. As if he isn't busy enough, he somehow finds time to give lectures at major international conferences, edit textbooks, and is an accomplished author. Wang enjoys working hard and appreciates the fact that he has the opportunity to work in a field of his choice. He believes God has a plan and a use for all our lives if we trust in Him."
— Wendy Schreiber
Wendy is a freelance writer who lives in Franklin with her husband and two children
Eye Ball Facts:
October 16th over 500 guests attended the black tie event, which was held on October 16 at the Renaissance Hotel in Nashville Congressman Marsha Blackburn served as the honorary chair. The guests included doctors, nurses, technicians, secretaries, musicians, dancers, politicians, medical instrument company representatives, farmers, soldiers, lawyers, accountants, as well as those from many other professions. The event featured a ball room dance show, opera singing, and emotional testimonials from patients who were once blind, but can now see again! The board of directors of the foundation consists of many prominent community leaders and philanthropists.
To find out more information about the sight charity foundation and about EyeBall, or to read Dr.Wang's entire personal Testimony visit drwang@wangvisioninstitute.com, www.WangCataractLASIK.com, www.WangFoundation.com.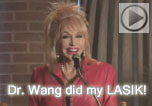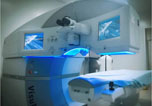 Our textbooks
A 501c(3) charity that has helped patients from over 40 states in the US and 55 countries, with all sight restoration surgeries performed free-of-charge.