Dr. Ming Wang performs state's 1st laser cataract surgery
Reported By Davis Nolan, Meteorologist, WKRN/ABC
NASHVILLE, Tenn. - Medical history was made in Nashville on Thursday as Dr. Ming Wang performed the state's first laser cataract surgery.
The surgery was also the first time that new technology was used in conjunction with 3-D imagery to guide the surgeon.
Patient Shirley Breece told Nashville's News 2 she wanted to undergo laser cataract surgery to improve her eyesight due to cataracts.
"I hope for better vision," she said, adding, "The capabilities of not having those discouragements of or fearfulness of being on the road after dark. That night vision issue will go away plus being able to see more readily in the daytime, as well."
During the surgery, Dr. Wang used a computerized laser imaging system, which guides the laser beam to the correct target.
Real-time, high resolution images of the Breece's eye was projected onto a computer screen which allowed Dr. Wang to perform the cataract surgery and laser astigmatism correction with the precision that far surpasses that of a traditional manual blade or ultrasound.
"The laser technique is able to take a cross section image, unfold the cross section of the lens so we can see how thick the lens is where we want to do surgery with laser precision," he explained.
According to Dr. Wang, there is a major advantage of using a laser to perform the surgery over the traditional surgical blade.
"The laser is going to draw a perfect circle that predicts where the lens's position is after surgery, see the incision for a stigma, and the laser making an incision instead of a blade, the primary incision and the secondary incision, and we're done," Dr. Wang said.
To remove a cataract, Dr. Wang uses a special pair of 3-D glasses.
"Using my 3-D glasses helps give me extra depth of focus," he said.
Breece's procedure was completed in about an hour. Just a short time later she could tell a difference.
"Before, even though I could see, it was like there was a cloud or a fog that you could see, and now that's already beginning to clear up," Breece said.
Dr. Wang said that since 3.2 million cataract surgeries are already performed annually in the United States, the new laser technique is expected to have a major impact on the lives of people wanting to improve their vision.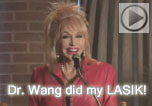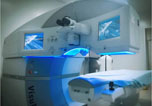 Our textbooks
A 501c(3) charity that has helped patients from over 40 states in the US and 55 countries, with all sight restoration surgeries performed free-of-charge.