Eye Doctor
Wang Vision 3D Cataract and LASIK Center, Nashville, Tennessee
Woman Seeing Clearly Thanks to Brand-New Technology

After 30 years of wearing contacts, a local woman is seeing a lot more clearly tonight thanks to a brand-new technology.
Susie Higginbotham is the first Nashville patient to have "custom cap" laser treatment. Well-known surgeon and corneal specialist Dr. Ming Wang performed the procedure Thursday afternoon here in Nashville.
Custom cap can fix what Lasik surgery cannot, and took all of 10 minutes.
"I had a ghosting," said Susie.
Fewer than 20 custom cap treatments have been performed in the country. Dr. Wang says this latest technology should reinforce consumer confidence in what eye doctors can do for them.
News 2 at 6
10.10.02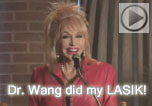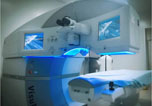 Our textbooks
A 501c(3) charity that has helped patients from over 40 states in the US and 55 countries, with all sight restoration surgeries performed free-of-charge.