Laser Eye Surgeon
Wang Vision 3D Cataract and LASIK Center, Nashville, Tennessee
New Vision
By Jan Gallett, Staff Writera
Chattanooga, TN, Wednesday, July 23, 2003 - More than a decade after a rare disorder left him legally blind, a Soddy-Daisy teenager has had the second of two revolutionary operations that may restore his sight.
Matt Higgins, who turns 17 on Thursday, got an early birthday present Monday when Nashville laser eye surgeon Ming Wang completed a corneal stem cell transplant in his right eye. This procedure follows an April surgery that helped to rid the young man's damaged eye of scar tissue and prepare it for Monday's delicate transplant.
"Dr. Wang said the surgery went well. He said everything looks good," the teenage patient said Tuesday.
Without complications over the next few weeks, Matt could recover the functional vision that will allow him to reach his goal.
"I want to be able to drive a car and to get a job," he said. People without functional vision are unable to read normal print in newspapers or books. They can't orient themselves to move around independently in unfamiliar places and lack the ability to manage daily living skills, according to the Swedish Association of the Visually Impaired.
Matt's dual eye surgeries came six years after the Higginses learned of Dr. Wang's success in using young stem cells to reverse blindness in patients whose eyes were damaged by chemical burns, injury or trauma.
"It's been a long wait-and-see journey," said Matt's mother, Debbie Higgins, 43. "But, it's going to open up a whole new door for him."
She said her son was 4 when flulike symptoms prompted a call to his pediatrician. Once at the doctor's office, a blister appeared on Matt's ear.
"Within an hour, he was in Intensive Care with blisters going all the way down to his thighs," said Mrs. Higgins. "They put him on a ventilator and in a drug-induced coma."
A dermatologist's biopsy diagnosed Matt's condition as Stephens-Johnson Syndrome, a rare disorder triggered by an antibiotic reaction and characterized by inflammation of the mucous membranes.
But Matt hadn't taken antibiotics, his mother said.
"We really don't know what caused it," Mrs. Higgins said. "A doctor said it might be a virus."
She said doctors told her that the resulting severe scarring and corneal blood vessel growth had left her son irreversibly blind. Testing found his vision was 20/60 in his left eye and from 20/600 to 20/800 in his right.
"Matt sees things as though he's looking through a fog or a snow storm," said Mrs. Higgins.
She said he can discriminate between colors but can't recognize people he knows farther than a few feet away.
The term "irreversible blindness" is "like terminal cancer for vision," according to Dr. Wang, 42.
He said that, besides Matt's cornea, the youth's stem cells were destroyed. Without those regenerative cells to aid in healing, a cornea transplant couldn't be done because post-operative sutures wouldn't hold.
Dr. Wang was a medical student at Harvard University when he began developing a treatment protocol for the trauma-related corneal scarring that blinds more than 15,000 people in the United States annually. He said his research showed that treating an eye with portions of stem cell-rich amniotic membrane could rejuvenate the healing ability of its tissues.
Today, the research professor at Vanderbilt University and director of Wang Vision 3D Cataract and LASIK Center said he has performed the companion operation Matt received on more than 100 patients. He said patients show "a 60 to 70 percent success rate in restoration of functional vision."
Known as an Amniotic Membrane Transplant, the first surgery involves transplanting onto the eye a cellophane-thin membrane from placentas of mothers who've had Caesarian sections, according to the ophthalmologist.
In the second operation, a cornea ringed by a collar of stem cell tissue from an adult cadaver is transplanted. He said the cells not only aid in post-operative healing, but help the eye "recover from any future injury."
The complex procedures aren't without potential problems, according to Dr. Wang.
"Stem cells are picky. We have to kowtow to them," he said.
There's a 30 percent to 40 percent chance of transplant rejection, he said. And the recovery period "requires discipline to prevent infection," he said.
"But it gives people with irreversible eye damage a fighting chance," Dr. Wang said.
Because only a handful of surgeons regularly do the paired operations, the supply of donor tissue is sufficient for current needs, he said.
But, in anticipation of a future shortage and as a way for more patients to benefit from his technology, Dr. Wang has developed the less-invasive procedure of using a contact lens with a surrounding doughnut of stem cell tissue. He said its prototype is now at the animal-testing stage.
Matt's vision has improved since the April surgery, according to Mrs. Higgins. She said in June he read the big "E" on the eye chart for the first time. Earlier this month, he watched TV while seated on a couch that had been too far away from the set for him to see it previously.
Matt will take immune-suppressant drugs to lessen the chances of transplant-rejection, according to Dr. Wang. He said the medicine may make Matt feel "like he's having chemo."
To guard against infection while his immunity is low, Matt also may wear a mask when he starts his junior year next month at Soddy-Daisy High School, according to his mother. But she said the 20 percent to 30 percent fluctuation in vision Dr. Wang said he could experience during the next few weeks may bring even more dramatic change to his classroom routine.
Matt has usually left at home the large-print books and enlarged handouts that teachers have provided because "he doesn't want to call attention to himself," said Mrs. Higgins. "He's always been a good student.
"But all his life, he's used his memory to compensate for his vision," she said. "As long as a teacher said something aloud, he's always gotten it."
A computer buff, Matt is on a college-bound track at school and needs to get volunteer experience on his resume, she said. Even with Dr. Wang's waiving his fees and the family's insurance covering the dual surgeries' cost, she said Matt wants to get a job to help defray expenses.
"But those are the kind of problems we can handle," she said. "We just hope we get to the point where we have them."
E-mail Jan Galletta at jgalletta@timesfreepress.com
Back to Top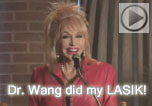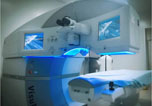 Our textbooks
A 501c(3) charity that has helped patients from over 40 states in the US and 55 countries, with all sight restoration surgeries performed free-of-charge.